Vehicle Safety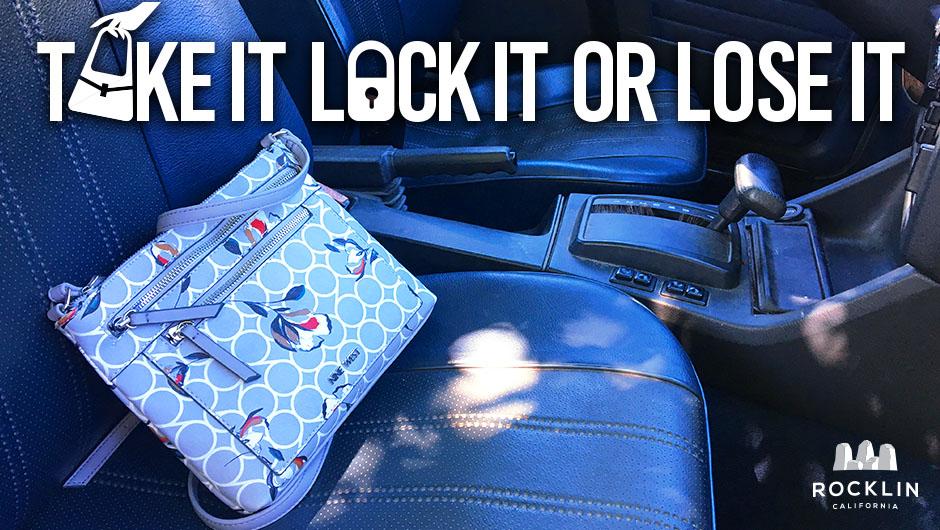 Theft from vehicles is one of the most common crimes in Rocklin, with more than one incident occurring each day. A majority of these thefts are from unlocked cars!
The Rocklin Police Department reminds residents that they are important partners in the fight against crime and that theft from vehicles can often be prevented with a few simple actions.
Remember "Take it. Lock it. Or lose it."
Take it – Do not leave belongings in your vehicle. Laptops, backpacks and purses are prime targets, but even small things like sunglasses or loose change can invite break-ins.
Lock it – Always lock doors and roll up windows when leaving your vehicle unattended. A car alarm is recommended.
Or Lose it – Theft from vehicles is one of the most common crimes in the City and is preventable. Don't be a victim!
If you experience a theft from you locked or unlocked car, report it to the Rocklin PD non-emergency number at (916) 625-5400. Descriptions of suspicious activity, people, or vehicles connected to the activity can be helpful in catching thieves. Rocklin PD utilizes information to conduct targeted enforcement based on information received from the public.
Additional tips while out and about:
If you must leave something valuable in your car, place it out of sight or in the trunk before you arrive at your destination. That way someone who happens to be watching won't see you place your valuables in the trunk.
Alarm systems, steering wheel locks, and other anti-theft devices can deter thieves.
Park in well-lit, populated areas. Be aware of who and what is around you when you park your car.
If you see someone suspicious lingering in the area, notify your local police department.
Do not keep your registration, pink slip or any other personal information in your vehicle. You should keep a copy of your registration and insurance card in your purse or wallet, but not inside your car where it can be stolen.
Tips for parking at home and away:
If you have a garage, park your car inside. Don't leave it outside overnight where it is more susceptible to theft , burglary and vandalism. Lock your car even when it is in the garage, and keep your keys in a secure place in your home.
Do not leave your garage door remote control inside your vehicle. If someone burglarizes your car, they can steal it, go to your home, and enter your garage.
You might also be interested in: