Vehicle Safety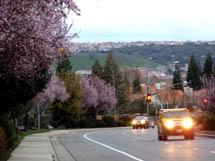 The Rocklin Police Department offers the following vehicle safety tips to prevent theft and/or damage to your vehicle:
You can also view and print out our vehicle safety flyer Is your vehicle an easy target?
Whenever and wherever you park, always lock your car and roll up the windows.
Do not leave valuables inside your vehicle, especially if they are visible.
If you must leave something valuable in your car, place it out of sight or in the trunk before you arrive at your destination. That way someone who happens to be watching won't see you place your valuables in the trunk.
Alarm systems, steering wheel locks, and other anti-theft devices can deter thieves.
Park in well-lit, populated areas. Be aware of who and what is around you when you park your car.
If you see someone suspicious lingering in the area, notify your local police department.
If you have a garage, park your car inside. Don't leave it outside overnight where it is more susceptible to theft , burglary and vandalism. Lock your car even when it is in the garage, and keep your keys in a secure place in your home.
Do not keep your registration, pink slip or any other personal information in your vehicle. You should keep a copy of your registration and insurance card in your purse or wallet, but not inside your car where it can be stolen.
Do not leave your garage door remote control inside your vehicle. If someone burglarizes your car, they can steal it, go to your home, and enter your garage.
You might also be interested in…