Fireworks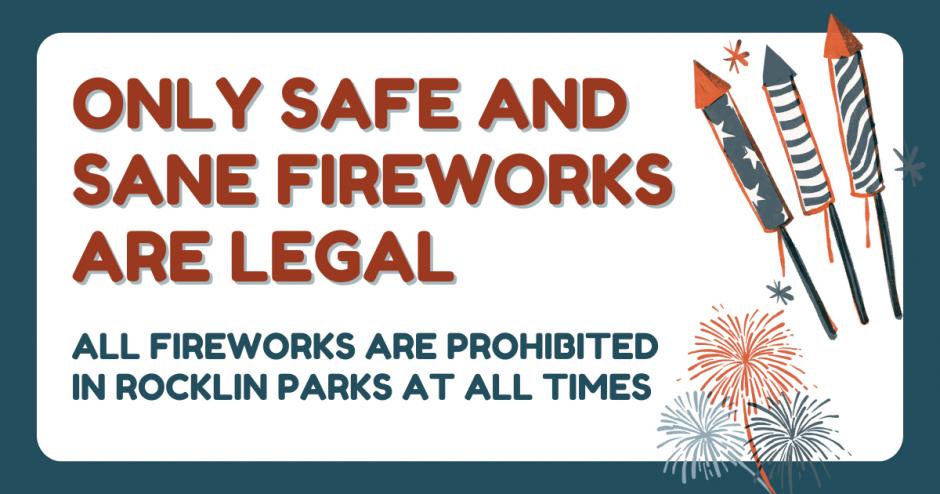 Only "Safe & Sane" fireworks are legal in California and may be sold within the city limits by non-profit organizations that meet the criteria stipulated in the guidelines below.
Need To Know

Fireworks which are not "Safe & Sane" are illegal. Some of these illegal fireworks include: bottle rockets, M-80's, firecrackers, or any other firework shot from a launching tube.
The City of Rocklin has adopted a Zero Tolerance Policy regarding Illegal Fireworks. The City Council has adopted a Municipal Code, which mandates a fine for individuals who possess, charge, or allow others to possess or discharge on their property any illegal fireworks or safe & sane fireworks discharged in an illegal manner. Please report illegal discharge of fireworks by calling 911.
Selling Fireworks
The sale of fireworks can begin no earlier than 12 noon on June 28 and continue to 10:00 p.m. on July 4. The sale of fireworks is permitted between the hours of 9:00 a.m. to 10:00 p.m. daily.
Download the required forms below:
Please contact the Rocklin Fire Department, Fire Administration office at (916) 625-5300 for the applicable fees and application process.
Setting Off Fireworks
Discharging of Safe & Sane fireworks is allowed only from 12 noon on June 28 through 11:59 p.m. on July 4.