Benchmarks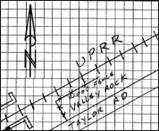 The following Benchmark Information Table provides descriptions, elevation information and reference numbers for the recognized Benchmarks for the City of Rocklin.
Important Information about Datums
The City of Rocklin requires the use of the NGVD 29 Datum for vertical control. The alternate datums listed are for information purposes only and will not be accepted if used for vertical control purposes.
Step 1. Locate the Benchmark you require on the  (8.1 MB)
Step 2. Locate the Benchmark on the Benchmark Information Table (<1 MB)
Step 3. Click on the Benchmark with the same reference number 
For Reference:
Vertical Control Network Map (2.5 MB)
City of Rocklin GPS Control Network Record of Survey
Benchmarks
Benchmark Horseshoe (321.4 KB)