Permits & Licenses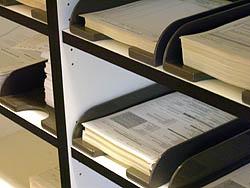 The Rocklin Police Records Unit and other City of Rocklin departments issue permits and licenses for a variety of special uses, functions, and events.
Permits and licenses and the agency responsible for issuing them are presented below. Please call the proper agency before you come in to get your permit.
Dog License
The City of Rocklin's Animal Ordinance requires that all dogs over the age of four months get a license with the City of Rocklin.

Fee: The fee is determined by the rabies vaccination coverage. Please contact the Police Department to determine the fee for your dog. If your dog is spayed/neutered, you will get a discount off the license fee.
Bingo Game License
Authorized organizations can apply for a license for bingo gaming

Fee: $136.00
Requirement for using high explosives in the City of Rocklin (requires proof of public liability insurance)

Fee: $92.00
Massage Permit
Requirement for operating a massage establishment or independent massage technician

Fee
$514 Permit fee (or $256 Renewal fee)
$20.00 Fingerprint fee
$32.00 Dept. of Justice fee

Peddler / Solicitor / Vendor Permit

Requirement for going residence-to-residence in the City of Rocklin for sales, donations, pledges, etc.

Every solicitor applicant must complete a solicitor permit application, must read the City ordinance governing soliciting, and must sign a form stating that they have read and understand the ordinance. They must also furnish a copy of their City of Rocklin Business License

Fee: $41 per person
More Permits & Licenses
The following permits and licenses are issued by other City of Rocklin Departments and other government agencies.