Residential Street Closure Permit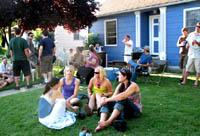 The Rocklin Municipal Code (Chapter 12.24) regulates the closing of any street within the City of Rocklin for the purpose of holding a celebration such as a block party.
A temporary Residential Street Closure Permit is required and must be filed 20 days prior to the scheduled temporary closure.
The permit authorizes closing a street, it does not authorize any activity otherwise prohibited by law. The Police Department will take appropriate action in the event of any disturbance, and may revoke the permit at any time.
Permit Conditions
Applicants must agree to the following conditions (see the full permit application for complete details):
All debris must be removed immediately after the event.
A petition requesting approval of the event must be signed by all residents on the street.
Streets need to remain accessible to emergency equipment at all times.
Tables, chairs and other large items are restricted to the sidewalk.
Participation is only for neighborhood residents and friends.
There shall be no selling of food or beverages.
Insurance Requirements
As a condition to issuance of a permit, a Certificate of Insurance will be required. In addition to the permit fee, a refundable deposit (to meet any costs related to closing the street) may be required once the application is approved. The deposit shall not exceed $1,000.