ARPA Funding
The $1.9 trillion American Rescue Plan Act (ARPA) was signed into law on March 11, 2021, to deliver relief to millions of Americans struggling with the economic crisis caused by the ongoing COVID-19 pandemic. ARPA includes a more than $350 billion allocation of Coronavirus State and Local Fiscal Recovery Funds (CSLFRF) to state, local, territorial, and tribal governments.
The City of Rocklin has been awarded just over $7 million to assist local businesses and non-profits in recovering from the pandemic, maintain vital services, increase the health and safety of residents, and more.
FUNDING CATEGORIES
---
ALLOCATED VS. SPENT
Allocated funds are for conceptual programs approved by City Council that have not yet launched.
In Progress funds are for programs being developed and those that have already gone live.
Spent funds are those already expended and no longer available for use.
SPENDING BY KEY RESCUE EFFORT

Community Support Funding
This funding is used for the following city-wide revitalization programs: small business support, restaurant assistance, nonprofit assistance, Rocklin Chamber of Commerce, capacity building grants, and job training/upskilling.

Internal Support
This funding is being spent on improvements to City of Rocklin buildings to make them safer for employees and the public, including improvements to HVAC, front counters, and technology.
---
CONTACT
For questions or comments about Rocklin's ARPA fund allocations, please send us a message by clicking the link below.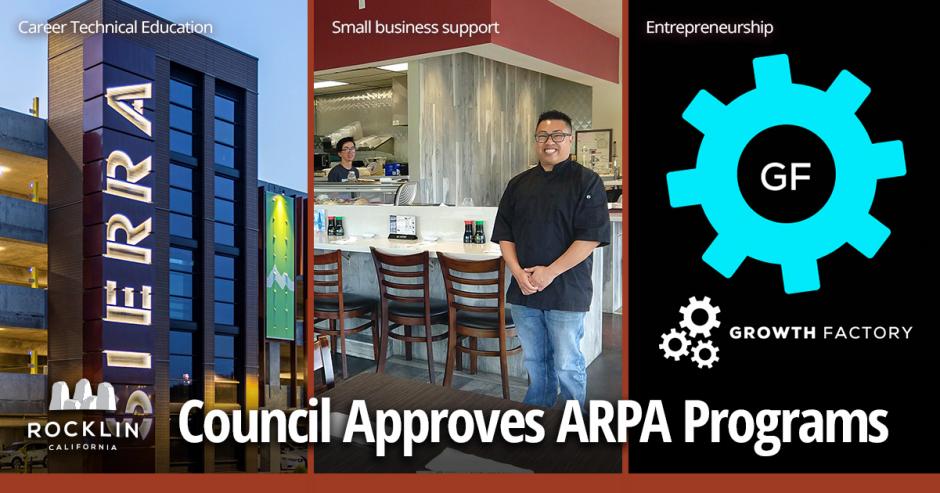 The City of Rocklin has committed more $2.85 million in Federal American Rescue Plan Act funds for community support programs to assist Rocklin residents, businesses and non-profits in recovering from the COVID-19 pandemic.
On June 28, the Rocklin City Council authorized staff to enter into agreements with local organizations to provide more than $2 million to support career and technical education, student mental health, small businesses, non-profits and entrepreneurship.