City Strategic Plan
Thank you for your interest in the City of Rocklin's Strategic Plan.
The City Council recently reviewed and established priorities for the next two years at the March 22, 20223 Council Retreat. A Council priority is defined as a topic that will receive significant attention and budget consideration during the year. Typically, priorities have one to three-year time limit, although some may continue beyond that time.
On Wednesday, March 22, 2023, the City Council selected the following elements to include as categories for its highest priorities: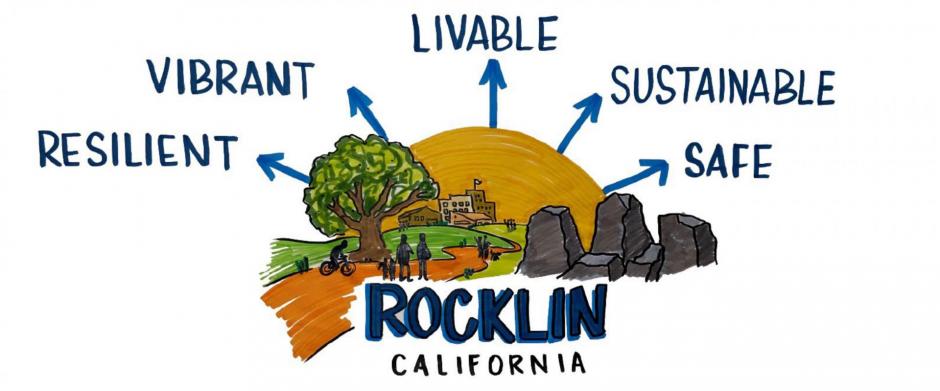 We invite you to review our latest strategic plan, which focuses on five "pillars":
SAFE - Rocklin residents feel comfortable walking and biking throughout the community, enjoying parks and public spaces, and know that the City is prioritizing the safety, health and well-being of its community. Rocklin invests in public safety by providing resources and technology to consistently reduce crime and ensure the City remains safe. The City partners with nonprofits, social service agencies, and the community to address the root causes of crime and social instability.
LIVEABLE - Rocklin is responsive to the unique and emerging needs of the community and offers a quality of life that supports health, happiness and prosperity to all. This results in a community where residents have access to diverse parks, unique amenities, inviting gathering spaces, quality events, and exceptional educational opportunities.
VIBRANT - Rocklin stimulates a vibrant and diverse community through technology and efficient planning that is flexible and responsive. Rocklin's business friendly environment promotes economic vitality, welcoming new and supporting existing businesses through excellent customer service.
RESILIENT - Rocklin is resilient and seeks ways to assist the community, businesses and citizens to be adaptable in the face of a changing world. The community is connected through a network of roadways, trails, and sidewalks that allow people and goods to move safely and efficiently throughout the City. Rocklin's infrastructure is designed, built, and maintained to withstand and quickly recover from disasters and disruptions.
SUSTAINABLE - Rocklin seeks opportunities to diversify its funding sources to ensure a strong fiscal foundation. Intentional long-term financial planning ensures community success and supports the city's quality of life.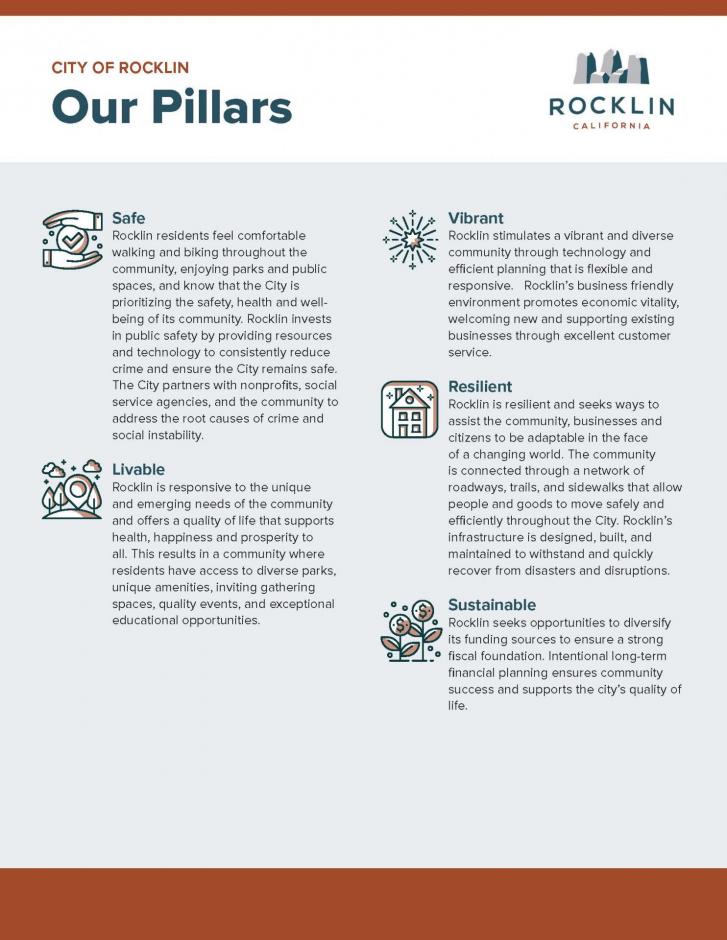 Our strategic plan is a "living document" with action plans for each department. It serves as our guide and will be reviewed on a regular basis with City Council. We invite you to stay up to date by engaging in City communications to receive updates, and to attend or review our City Council meetings. More information about City meetings can be found at: https://www.rocklin.ca.us/city-council-agenda-and-minutes.