Managed Grazing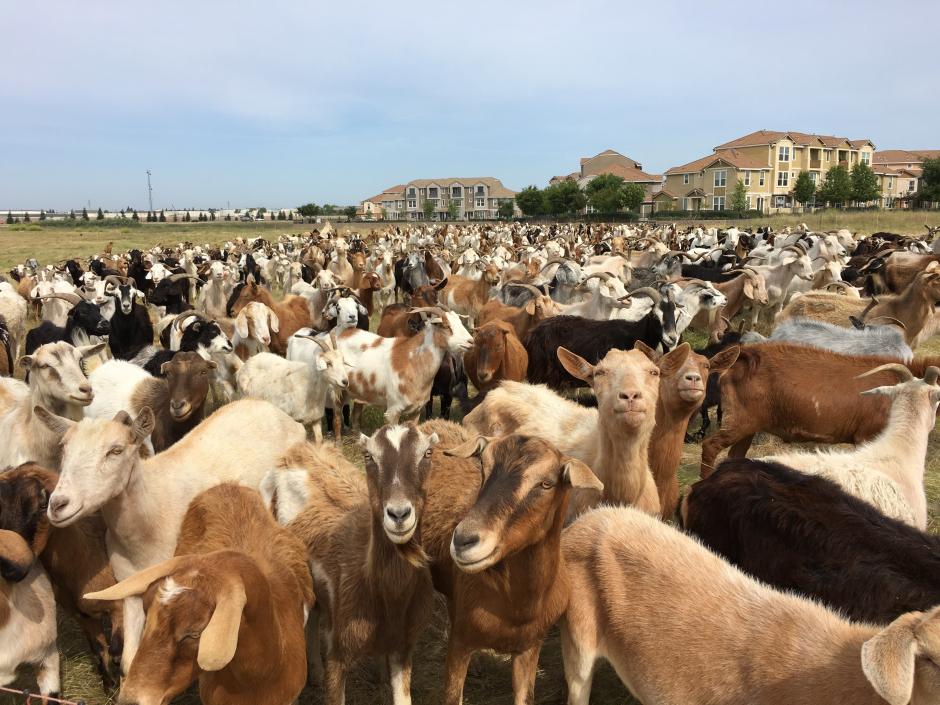 Anyone living in California knows how easily wildfire can devastate a community. One of the many responsibilities a property owner has is to minimize fire hazard by controlling excess vegetation on their property.
Managed Grazing
Where Are the Animals Now?
This map shows the grazing locations on City property. Grazing on private property is not shown.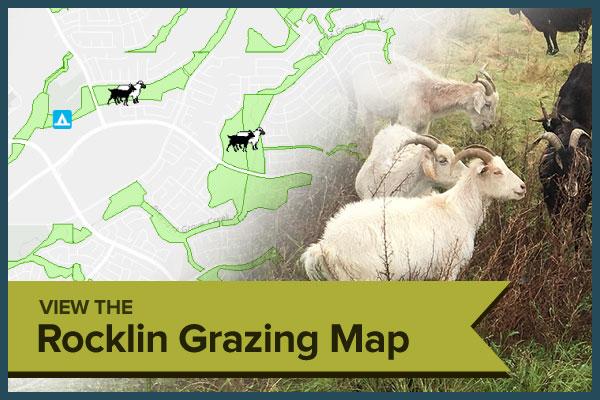 What is Managed Grazing?
Managed grazing is a "green" approach to vegetation control. Grazing animals (sheep and goats) are used throughout Rocklin for vegetation control instead of manual, mechanical or chemical methods. Sheep are used when vegetation is still tender and green. Goats are typically used when vegetation begins to dry out. Rocklin's grazing contractor is Legacy Ranching.
Many local and state government agencies are now using managed grazing. Although it has been around for years, it may not be appropriate for every situation, but if done properly, it is an effective, eco-friendly alternative to consider for your property by reducing fire hazard and controlling the growth of vegetation on public lands.
How to Prepare
Do not place any yard clippings, rat poison, or potted plants in the open space.
Keep pets away from sheep and goats since the dogs protecting the herd may view them as a threat.
Ensure that your fence is secure so grazing animals do not have access to your yard. Goats and sheep may be able to squeeze their heads through a wrought iron fence so please protect your plants.
Keep children and pets away from the electrified grazing fence that can cause small shocks if touched.
Please do not feed or disturb the animals. If you are concerned for their safety or health, please contact the grazing contractor or Animal Control. Do not attempt to save or rescue animals.
Benefits of Managed Grazing
One of the most noticeable benefits of grazing is the reduction of ladder fuels. Ladder fuels are dead vegetation such as tall grasses, shrubs, and low hanging tree branches that allow a ground fire to climb up into the tree canopy and spread. Managed grazing is a very effective way to reduce fire fuel loads because goats and sheep love grasses, clovers, weeds and brush species such as Manzanita, berry bushes, poison oak and even star thistle.
Environmental Benefits
Properly managed grazing has many environmental benefits, including:
Watershed Health & Protection
Habitat for Endangered & Threatened Species
Sequestering Carbon from the Air
Ground Water Recharge
Wildfire Reduction
Soil and Plant Health
Eradication of Invasive Plant Species
I Want to Use Grazing on My Property
Grazing can be done on private property as well as City owned land. Many HOAs and land developers in Rocklin use grazing on large fields that they own.
Before using grazing on your property, you will need to obtain a grazing permit from the Fire Department.
Managed Grazing Resources & Documents:
Weed Control/Abatement
What Is Weed Abatement?
In the City of Rocklin, all vacant parcels shall be abated (weeds cut down, trash removed, and/or firebreaks created to limit any potential fire hazard and allow access for fire fighting operations) on a year-round basis as per the City's Standards for Maintenance of Vacant Parcels.
In April of each year, the owners of vacant parcels are notified, by letter, of their responsibility to abate their property. This letter includes the cost schedule and the Notice of Intent, requesting the vacant parcel owner to check which option they will use to abatement their property and then mail or fax to the Public Services Department. In May, a second reminder letter is sent via certified mail to property owners that have not returned the Notice of Intent.
What Happens If Weeds Are Not Taken Care Of?
By the end of May, all vacant parcels that do not comply with the Standards for Maintenance of Vacant Parcels are declared a nuisance by the City Council. These parcels will be abated by the weed control contractor hired by the City to perform the necessary weed abatement. When the contractor invoices the City for the abatement work, the City, in turn, invoices the property owner for the contractor's fees plus a per-parcel administrative charge according to the cost schedule below. If the property owner does not pay these fees, the City places a lien on the property until the fees are collected. The City's Weed Abatement Contractor is New Image Landscape.
City Administrative Fee: $179
Handwork: $1,700 per acre
Tractor Mowing: $300 per acre
Discing: $165 per hour