Affordable Housing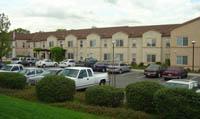 The City of Rocklin's Affordable Housing program consists of the condos at Vicara at Whitney Ranch. The City tries to keep the list below updated with current condos on the market.
The 2023 gross annual income limit for the 2 bedrooms is $77,200 and $85,750 for the 3 bedrooms. The maximum Affordable Purchase Price is $252,407 for the 2 bedrooms and $284,128 for the 3 bedrooms. To apply, please fill out the application below and attach all supplemental documents and either email the application to the email address included in the application or bring the application in to City Hall.
There are downpayment assistance loans through the City of Rocklin on some of the condos. There are no funds for any new loans so loans have to be transferred from the seller of the property to the buyer. The loans range from $8,000 to $25,000 and if the applicant is approved to the program, the application is also automatically approved for the loan.