Roundabout
As the City of Rocklin continues to grow and develop, traffic on the Rocklin Road and Pacific Street corridors is anticipated to increase. The Rocklin Road and Pacific Street Roundabout Project will improve traffic operations and safety at the current four-way intersection.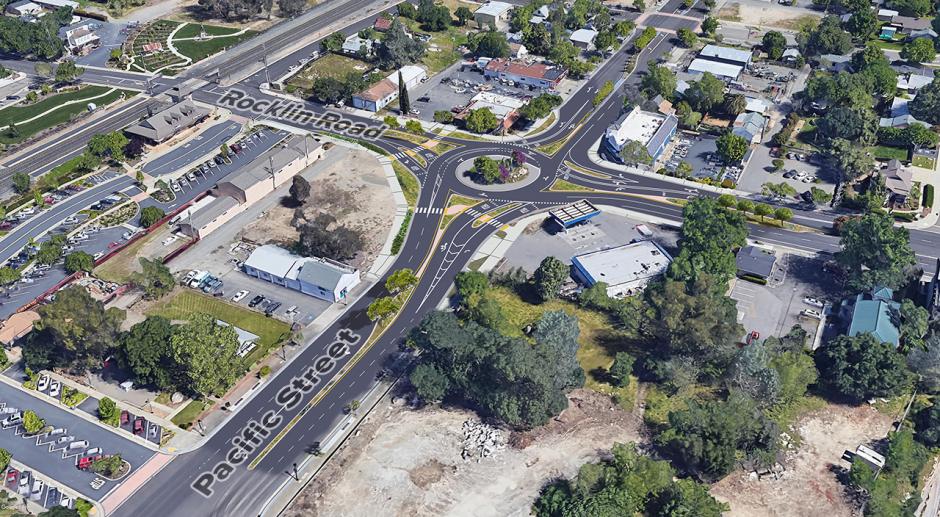 ---
PROJECT LOCATION
The City will replace the existing four-way traffic signal at Rocklin Road and Pacific Street intersection with a two-lane roundabout.
The project limits will extend along Rocklin Road from Railroad Avenue to San Francisco Street, and on Pacific Street from Oak Street to Bush Street.
UPCOMING IMPROVEMENTS
In addition to the new roundabout, this project will:
Construct an oval-shaped, landscaped island at the center of the roundabout
Install a separate right turn lane outside of the roundabout for northbound and westbound approaches
Reconstruct all four approaches from the intersection
Replace concrete within the intersection with asphalt pavement
Improve underground utilities
Install new landscaping and street lighting
SCHEDULE
Major construction began on April 18, 2022 and is scheduled to be complete in Jan. 2023. Generally, construction will occur on weekdays, between 7 a.m. and 5 p.m.
STAY INFORMED
Sign up for project e-mail updates to learn about upcoming construction activities, anticipated impacts, and more.