Wealth of Information Offered by City GIS Online Maps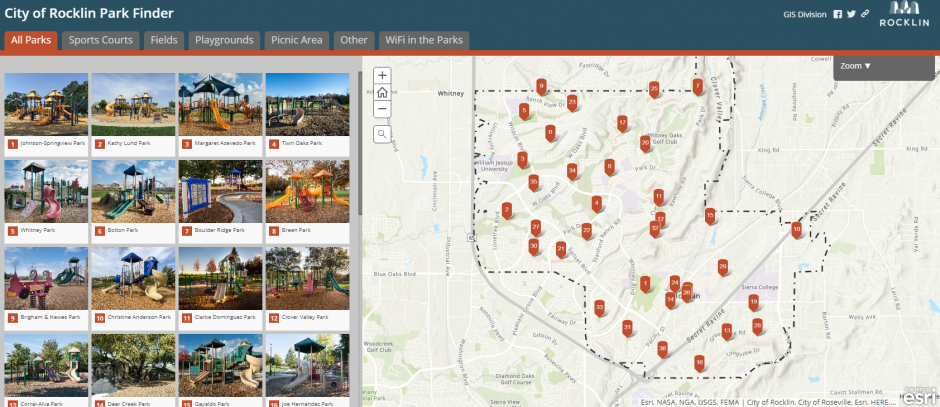 The term Geographic Information Systems may sound complicated to many people, like a mixture geography and information technology classes hazily recalled from long-ago college days.
While the practice and implementation does require knowledge and skill from both sciences, using the end product boils down to simply viewing useful information displayed by online maps.
The City of Rocklin offers a wealth of information on the GIS page at rocklin.ca.us/GIS to help make life a little easier, including maps displaying road closures, park locations, current public services projects, and much more.
The latest GIS tool offered by the City of Rocklin is the Traffic Alerts map which provides notices on road/lane closures and detours currently in place in the City. When visiting the page, a map displaying Rocklin's boundaries is shown, with red and blue lines representing closures. Clicking on the lines brings up information about each closure, including the specific section of the road which is closed, the expected duration of the project, and the entity responsible for the construction.
Citizens looking for a place to enjoy our region's great weather might be interested in the Park Finder map. The Park Finder provides details about the City's expansive park system, with locations, photos and information available for each. Looking for a specific sport court or field? There's a menu for that. Maybe you'd like to find the perfect play structure or picnic area? They're all listed and easily accessible. How about a place to surf free wi-fi on your phone while the kids play? The five parks where Astound Broadband and Rocklin partner to provide services are listed as well.
The City's Public Services department works in a variety of ways to maintain and improve public facilities and infrastructure. The GIS map displaying current, planned and past activity provides a great snapshot of City projects with photos and descriptions of each. Parking and access roads for the new fire station and adventure park on Pacific St., front street realignment, and road resurfacing scheduled for the current fiscal year are just a few of the projects listed.
The Community Map is Rocklin's most resourceful GIS application with nearly 50 loaded datasets. This application is a one stop shop for community resources such as parcel, transportation, and utility information. The community map also has many useful features like the ability to make measurements, add text, and print custom maps. If you are a new user, be sure to check out the tutorial video or FAQ document.
Anyone living in California knows how easily wildfires can devastate a community. Grazing animals (sheep and goats) are used throughout Rocklin as an environmentally sensitive form of vegetation control, reducing combustible grasses in the open space areas and increasing safety in our community. With Rocklin's grazing map, you can easily track the location of the goats during the grazing season.
Additional Maps
The City's GIS page also offers a map that can guide you on a virtual tour of historic sites, including information on old rock quarries, the Rocklin Cemetery, and Joel Parker Whitney's Pyramid tomb.
Links to GIS maps and data from other agencies are also included on the City's site, including assessor information for Placer County parcels, an interactive map to the latest census, Sacramento Area Council of Governments stats, and more.
If you're interested in learning more, view the GIS page at Rocklin.ca.us/GIS and click any of the topics. Popup screens prior to viewing each map provide the option to view a short training video, but most users will likely be able to navigate their way through the information using basic computer skills. Happy clicking!