Current Traffic Alerts
Whitney Ranch Pkwy. Now Open Between Painted Pony Ln. and West Oaks Blvd.
The segment of Whitney Ranch Parkway between Painted Pony Lane and West Oaks Boulevard is open!
Motorists should note the traffic signal at Whitney Ranch Pkwy and Painted Pony Lane is now also operational and is no longer flashing red. Please obey traffic laws.
A single lane roundabout controls the intersection of Whitney Ranch Parkway and West Oaks Boulevard.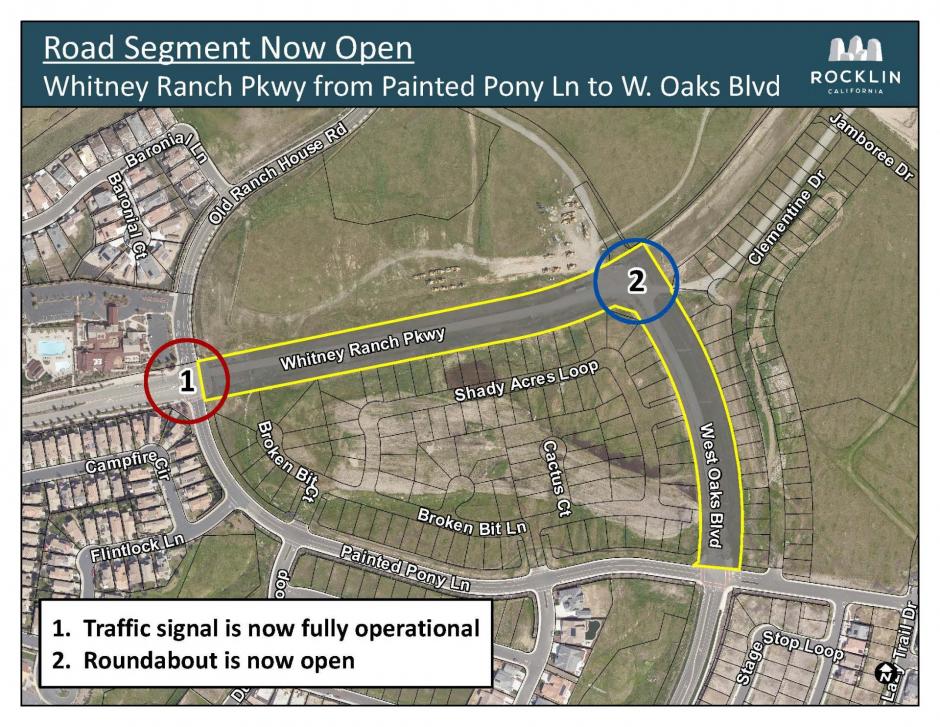 Lane closure on E/B Rocklin Rd between Grove St. and Granite Dr.
| | |
| --- | --- |
| Start Date | Wednesday, Feb. 19 |
| End Date | Friday, Feb. 21 |
| Lane Closure | Lane Closure on E/B Rocklin Rd. from South Grove Blvd. to Granite Dr. |
| | |
| Reason | AT&T Utility Maintenance |
| Time of Day | 10 p.m. to 5:30 a.m. |
| Project Lead | AT&T |
| Notes | One lane of east-bound traffic on Rocklin Rd from South Grove Blvd. to Granite Dr. will be closed from 10 p.m. to 6:30 a.m. resuming Feb. 19 and ending the morning of Feb. 21. AT&T is conducting maintenance of the fiber lines. |