Concrete Coverage Limits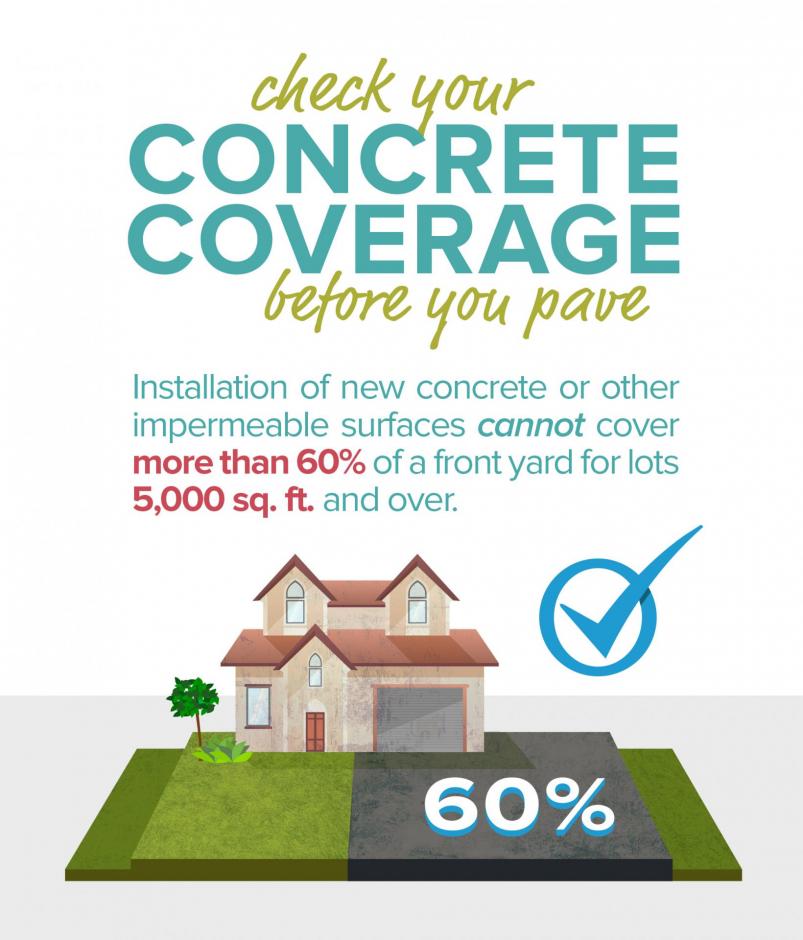 Residents planning landscaping renovations should be aware of new City guidelines that cap the use of impermeable surfaces in front yard and street side yard setback areas at a maximum of 60%.
Impermeable surfaces are any materials that prevent water from permeating into the ground. Think concrete, asphalt, and other products that form an impenetrable barrier between the topmost layer on the ground and the soil beneath.
The other 40% of ground area must be permeable surfaces, like grass, soil, landscaping, rock aggregate, decomposed granite, and similar materials.
The rule only applies to homes with lot sizes over 5,000 square feet. A property owner can also submit an exemption application to the Community Development Department if they have special circumstances regarding shape, size, topography, or other unique conditions of their front yard.
Limiting impermeable coverage helps prevent excessive vehicle parking on private property as parking is only allowed on impermeable surfaces in the City of Rocklin. It also serves to ensure minimal pervious areas are maintained on each property to aid with storm water management and allow absorption to recharge groundwater reserves.
No permit is required for concrete installation in Rocklin, but the City recommends checking with the Planning Dept. at planner@rocklin.ca.us or (916) 625-5166 before starting work.
Projects installed after July 7, 2019, that are determined by the City to not meet ordinance requirements will be subject to modification or removal at the owner's expense.