Rocklin's 130th Celebration Anniversary
Historical and Cultural Celebration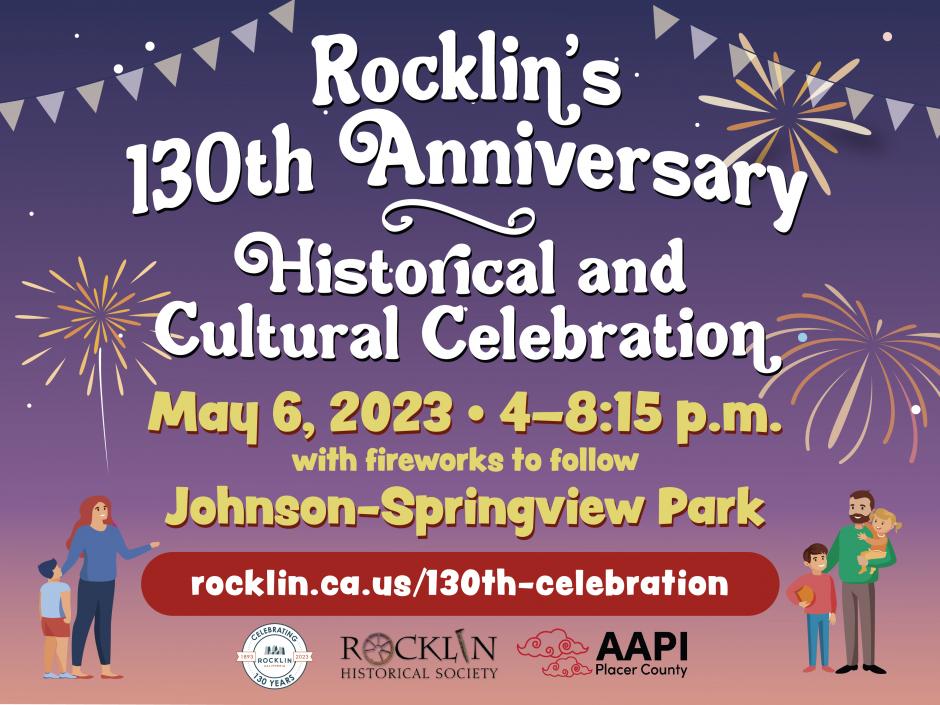 Join the City of Rocklin on Saturday, May 6, 2023 from 4-8:35 p.m. for our 130th Anniversary Historical and Cultural Celebration taking place at Johnson-Springview Park.
This event will feature fun for the entire family!
Cultural Dancers & Entertainment
Living History Performers
Interactive Kids Activities
Train & Historical Displays
Civic Displays
Food Trucks
Vendors
Fireworks
The City of Rocklin has partnered with the Rocklin Historical Society and Asian American and Pacific Islander (AAPI) Placer to bring an evening filled with fun for the entire family, which includes various performances, vendors, and fireworks.
The 130th Anniversary Historical and Cultural Celebration will begin at 4:00 p.m. at Johnson-Springview Park. Cultural performances from the Sacramento Taiko Dancers, Sacramento Area Nordic Dancers, WSCA Multi-Cultural Club Dancers, Koto Performance, Hālau Hula Pono Dancers, Hindu Swayamsevak Sangh USA Dancers, Placer Ume Dance Group, Japanese Dancers, Celtic Friends Performance, Pakistani Cultural Festival Dancers, and Unity Lewis will begin following the event kick-off.
In addition to the robust cultural performance programming, the event will also feature living history performers, train & historical displays, and a performance from the Placer Repertory Theater. Food trucks and vendors will be available for delicious bites and local business and craft booths.
Departments within City Hall will showcase vehicles from the Police and Fire Departments, equipment from the Public Services Department, and more at the various civic display booths. Following comments from Rocklin City Dignitaries, the Road Crew Band will perform around 7:30 p.m. with a firework show concluding the event at sunset.
Rocklin's 130th Anniversary Historical & Cultural Celebration is sure to be fun for the entire family. We look forward to seeing our community on May 6 at Johnson-Springview Park to celebrate Rocklin!
Rocklin's 130th Anniversary Historical and Cultural Celebration event flyer