Second Annual Sunset Run Promises Fun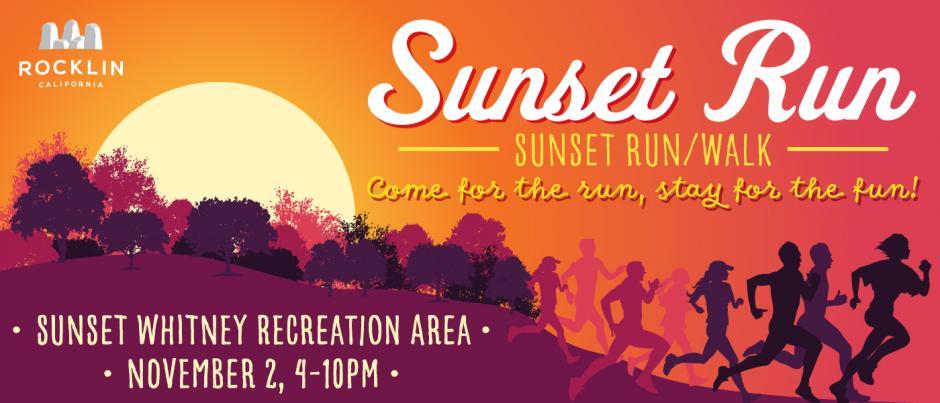 The second annual Sunset Run 5K fundraiser will be held Saturday, Nov. 2, from 4-10 p.m. at the Sunset Whitney Recreation Area (SWRA). The evening includes a run/walk at 5 p.m. and activities before and after, such as food vendors, lawn games, a DJ, and a free showing of Toy Story 4 under the stars at 6:30 p.m.
"Everyone is welcome, and we added the movie element so people feel encouraged to bring their families to join in on the fun," said Dana Papastathis, the Special Events Coordinator with the City. "It's a fun and healthy way to enjoy one of the City's newest parks."
The Sunset Run began last year, when resident Larry Osborne wanted to create a fun and engaging way to showcase and explore the SWRA before it was open to the public. Osborne is the founder of the Run Rocklin Series, the nonprofit that regularly partners with the City to host runs for the community.
"We are continuing what we started a year ago to invite people into the recreation area for a fun, friendly Saturday evening. The new additions this year continue growing the event into an enjoyable and healthy experience at a beautiful location," said Osborne.
The 5K path is all-terrain, with some paved asphalt and some natural, uneven trail sections. Participants may run or walk the course, and all finishers receive a medal.
The run/walk costs $32 while playing lawn games and watching the movie is free. Proceeds from the event will be used to help fund improvements to the SWRA. Families staying after the run are encouraged to bring blankets, cozy sweaters, and lawn chairs to get comfortable while enjoying the movie.
"The Sunset Whitney Recreation Area really is a mini-escape from suburbia," said Monica Nitz from Rocklin Parks and Recreation. "It's an exciting opportunity to spend time outside and build community at our parks during a beautiful time of year."