Overload Transportation Permit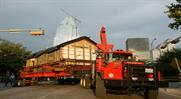 The City of Rocklin grants permission to applicants to transport overweight or oversized equipment, with restricted limits, on the streets within the city limits of Rocklin.
When Do You Need a Permit?
Permits are required whenever a vehicle or equipment that is driven, hauled, or towed exceeds a width of 10 feet, a height of 14 feet, a combined length of 75 feet, or a gross weight of 80,000 pounds. Load dimensions can be one or more of the following:
Weight: Overweight vehicles can cause structural damage to streets and may also affect underground structures. If the load is overweight, the actual load distribution should be beyond those called for in Section 35550 of the California Vehicle Code (CVC).
Height: Vehicles over 14 feet high can damage traffic signals and other overhead structures along city streets. It is important to check all over-crossing/under-crossing heights for clearance. An over-height permit can be issued for a vehicle or load over 14 feet in height.
Length: Long vehicles can have problems turning corners and can create gridlock on streets with short distances between traffic signals. An over-length permit can be issued for vehicle/load combinations over 75 feet in length.
Width: A wide vehicle on a street with narrow travel lanes can create a hazard for other traffic. One pilot car is required when the width of the vehicle exceeds 12 feet, and two pilot cars (one in front and one in the back of transport vehicle) are required when the width of the vehicle exceeds 15 feet. Vehicles that significantly exceed 15 feet in width may be required to obtain a law enforcement escort, at the applicant's expense, to perform traffic control operations. Contact the Public Services Department at 916.625.5500 for more information on law enforcement escorts.
Annual and Single-Trip Permits
You can apply for either an annual or a single trip permit. Permit holders, whether annual or single trip, are required to obtain a load number using the Overload Transportation Route Sheet form for each trip made through the City of Rocklin. The annual permit fee covers all load numbers issued to the annual permit holder. The permit and route sheet indicating the load number must be carried in the transport vehicle and must be open to inspection by any Peace Officer, Traffic Officer, or authorized agent of the City of Rocklin.
Permit Fees
Permits can be obtained by submitting completed application forms along with the permit fee to the Public Services Department. The current permit fee is $90 for an annual permit or $16 for a single trip permit.