Information on Garage Sales and Signs in Rocklin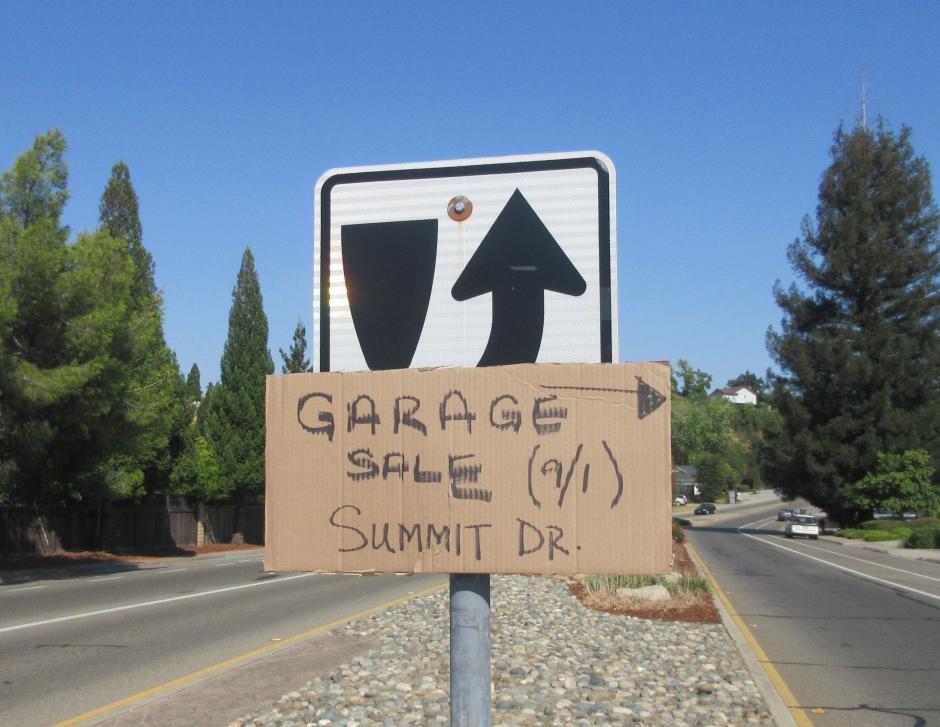 The season for garage sales is approaching but before putting out those treasures for browsing, the City encourages residents to know the rules.
A permit is not required in order to have a garage sale in Rocklin; however, guidelines are in place to maintain the integrity of the community. We trust that residents understand the necessity to keep Rocklin clean, uncluttered, and safe through the education and enforcement of the Rocklin Municipal Code.
How do I advertise for a garage sale?
The more people that know about your sale, the more will come. Citizens often advertise sales using social media, print, and bulletin boards. Local realtors or neighborhood groups often sponsor community garage sales in many parts of town.
Where can I place signs?
One sign is allowed on your property, a maximum of three square feet, and may be displayed only during the time of the sale.
Signs may not be placed in the public right-of-way, posted on trees, utility poles, traffic sign posts, light posts, traffic signals or any other traffic control device. Additionally, vehicles may not be used for general signage or parked in place or manner where the primary purpose is not the use of the vehicle, but the primary placement is to display a commercial message.

Improperly placed signs are subject to removal. Fines start at $100 and can rise to $500 for repeat violations. For more information, visit Chapter 17.75 and Chapter 17.80 of the City's municipal code.
What are the Garage Sale guidelines?
No more than 3 garage sales may be held per calendar year, per residence.
Garage sales are prohibited Monday-Thursday, and cannot last longer than 72 consecutive hours. There must also be at least 60 days between garage sales at a specific property.
Garage sales must be held wholly upon the personal property where the sale is being held, and cannot encroach onto the personal property of others without permission, or into the public right-of-way.
For more information, view Chapter 5.30 of the City's municipal code.
If you have additional questions, contact Code Compliance at (916) 625-5498 or the Planning Division at (916) 625-5160.