Fireworks Regulations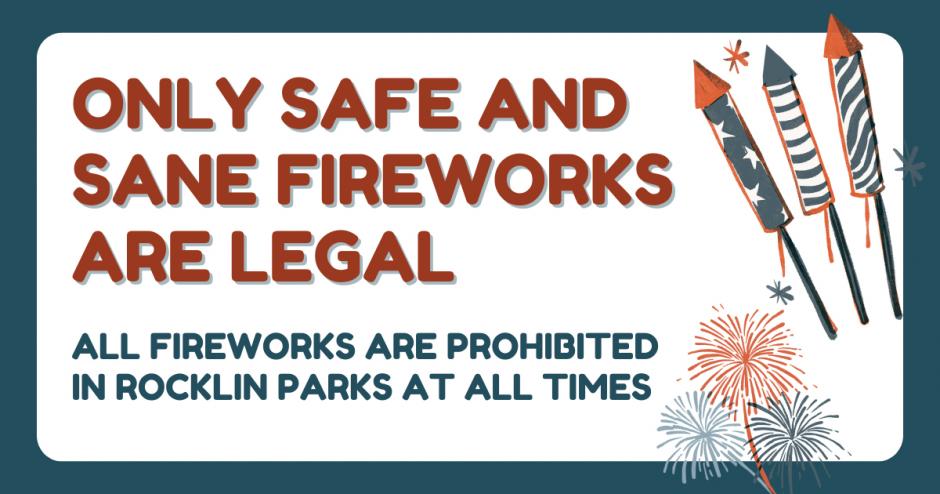 Discharging of Safe & Sane fireworks is allowed each year only from 12 noon on June 28 through 11:59 p.m. on July 4.
Remember:
Fireworks which are not "Safe & Sane" are illegal. Some of these illegal fireworks include: bottle rockets, M-80's, firecrackers, or any other firework shot from a launching tube.
The City of Rocklin has adopted a Zero Tolerance Policy regarding Illegal Fireworks. The City Council has adopted a Municipal Code, which mandates a fine for individuals who possess, charge, or allow others to possess or discharge on their property any illegal fireworks or safe & sane fireworks discharged in an illegal manner. Please report illegal discharge of fireworks by calling Police and Fire Dispatch at (916) 625-5400, option 0.
Selling Fireworks
Only "Safe & Sane" fireworks are legal in California and may be sold within the city limits by non-profit organizations that meet the criteria stipulated in the guidelines below.
The sale of fireworks may begin no earlier than 12 noon on June 28 and shall cease at 10:00 p.m. on July 4. During this time period, fireworks sales are permitted between the hours of 9:00 a.m. to 10:00 p.m. daily.
The fire department issues fireworks sales booth permits to a maximum of twenty applicants annually. Preliminary applications are accepted during business hours between February 1 and February 28 of each year. Once a preliminary application has been approved, the full application may be submitted between March 6 and April 1.
Fireworks Displays
Public fireworks displays require a permit from the fire department. Once you have selected a pyrotechnic operator, they must submit a permit application for approval at least ten days prior to the scheduled event.
Permit Applications
Please contact the Rocklin Fire Department, Fire Administration office at (916) 625-5300 for information about permit fees and application process.