Community Shows Enthusiasm for SWRA Master Plan Concepts
Approx. 175 People Attended Sept. 12 Meeting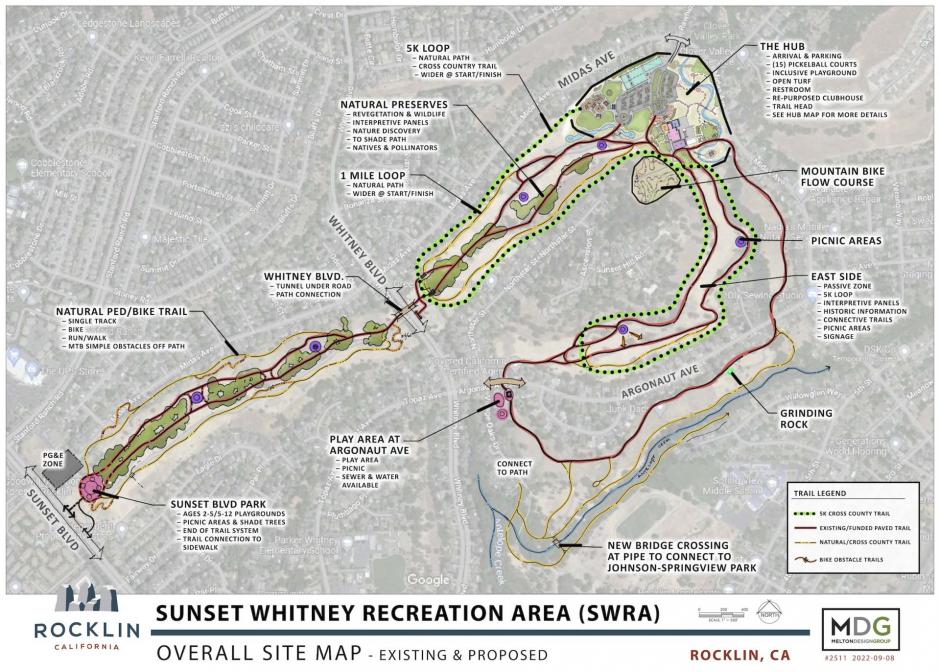 The City of Rocklin held a public meeting to share initial ideas and proposed amenities for the Sunset Whitney Recreation Area master plan on Monday, Sept. 12 at the Rocklin Event Center.
The evening featured a formal presentation outlining the current iteration of plans along the main corridors of the SWRA, including a central area for activities currently labeled "The Hub," a new park space near Sunset Blvd. on the west side of the SWRA, and more passive recreation proposed on the east side.
Approximately 175 members of the public attended and took part in a 30-minute question and answer session following the presentation, sharing their feedback and reactions to this iteration of the master plan.
Rocklin staff and the design team will review resident feedback received and the next iteration of the master plan will be presented at a Parks, Recreation and Arts Commission meeting later his year.
Overall Site Map
The overall site map at the top of this page shows high-level concepts throughout the SWRA. The zoomed-out view is useful to highlight paved and natural trails across the park, as well as the idea of multiple natural preserves, picnic areas and a proposed bridge connection to Johnson-Springview Park.
SWRA Trails Cross Section
The drawing showing a cross section of the various proposed trails is below. The SWRA already includes the renovated former golf cart paths on the east and west sides, and future designs include natural pedestrian and bike trails closer to the perimeter of the park for quiet everyday use, cross country races, simple mountain biking, and other uses.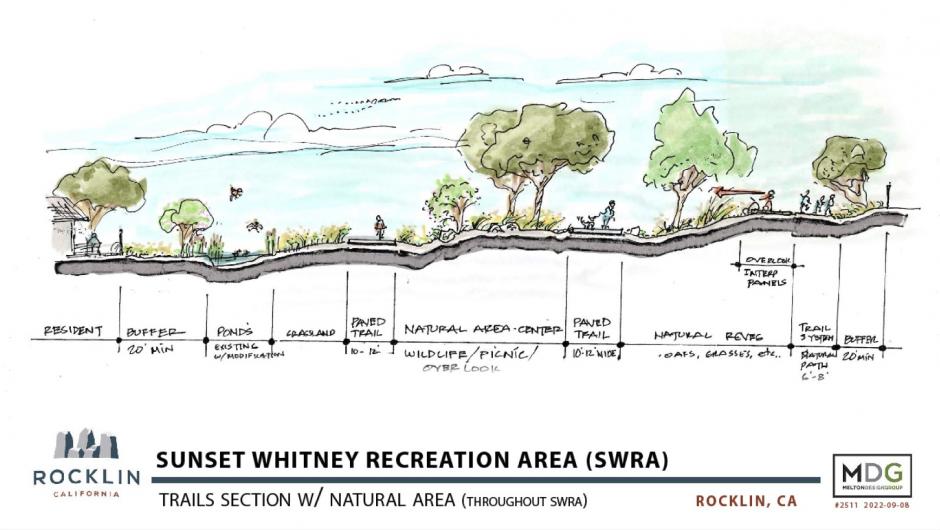 "The Hub"
This close-up of the "The Hub" provides more details on the amenities currently proposed for the center of activities at the SWRA. Highlights include small venues for outdoor events, active play areas for all-ages, a 15-court pickleball complex, a mountain bike flow course, trails, restrooms and more.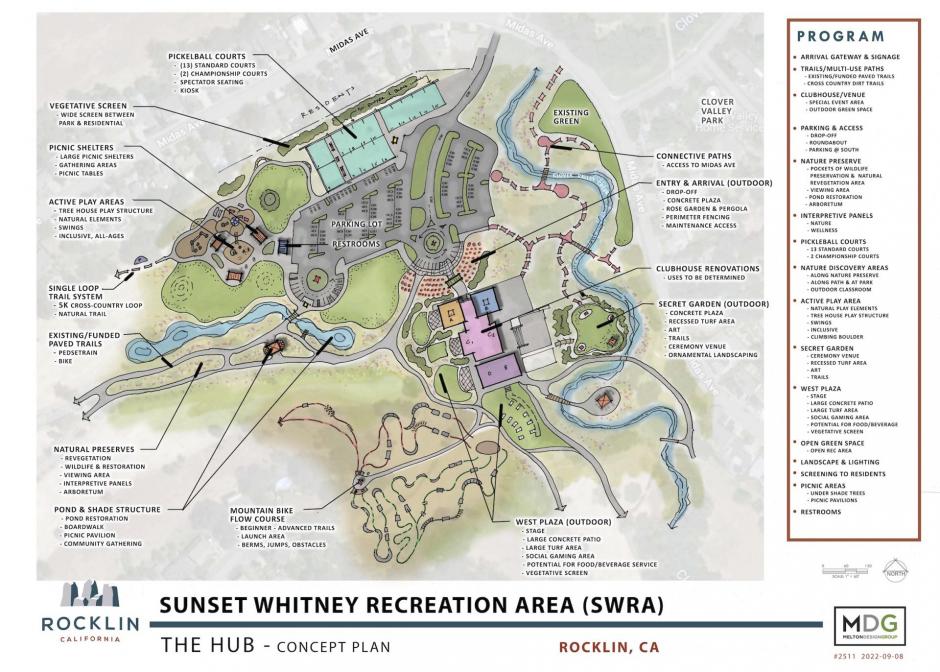 Pickleball
The blow-up of the pickleball section shows the proposed 50-ft distance buffer between homes and the courts, including "green" screening and a wall to redirect sound.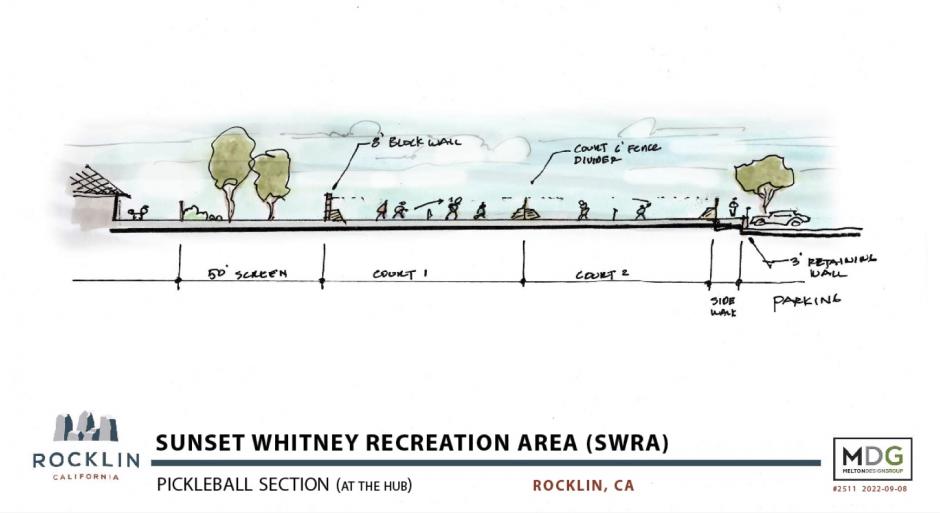 Active Play Area
The active play area at "The Hub" sketches the natural ideas behind the gathering spaces and play areas. The features will be designed for inclusivity and for appeal to younger and older kids, with areas for parents and people to gather and enjoy the meeting of nature and park structures.
Sunset Blvd Area
The access point of the SWRA at Sunset Blvd is seen as a good area to locate additional amenities with its proximity to existing and developing residences along the Sunset corridor. Picnic areas, a smaller central play area, natural preserves, a quiet zone, and a small bike trails section are all being proposed.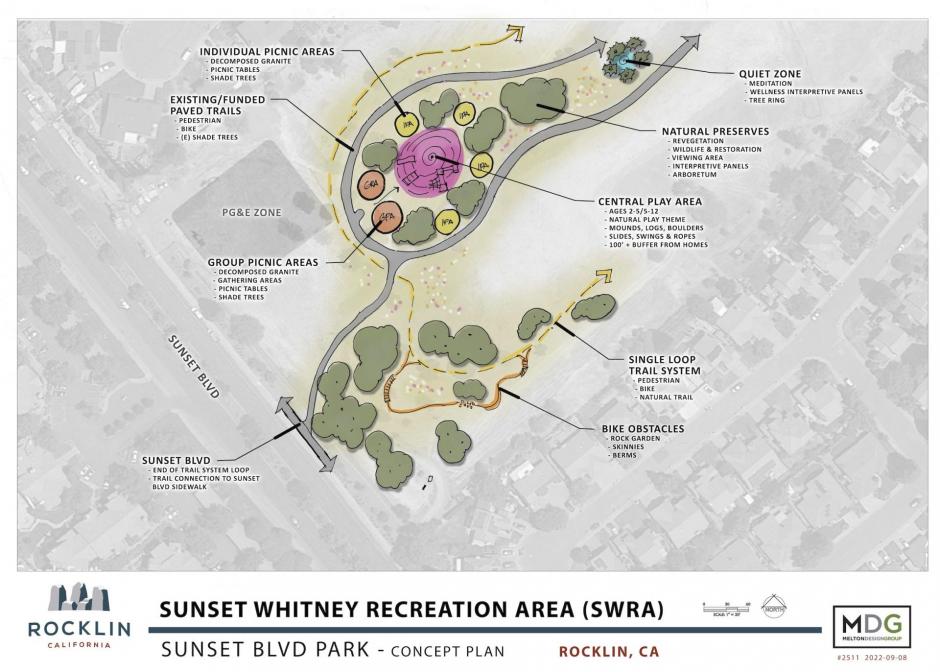 Inspiration Images