September 12 City Council Meeting Recap
SWRA East Pathway Project; Syringe Exchange Program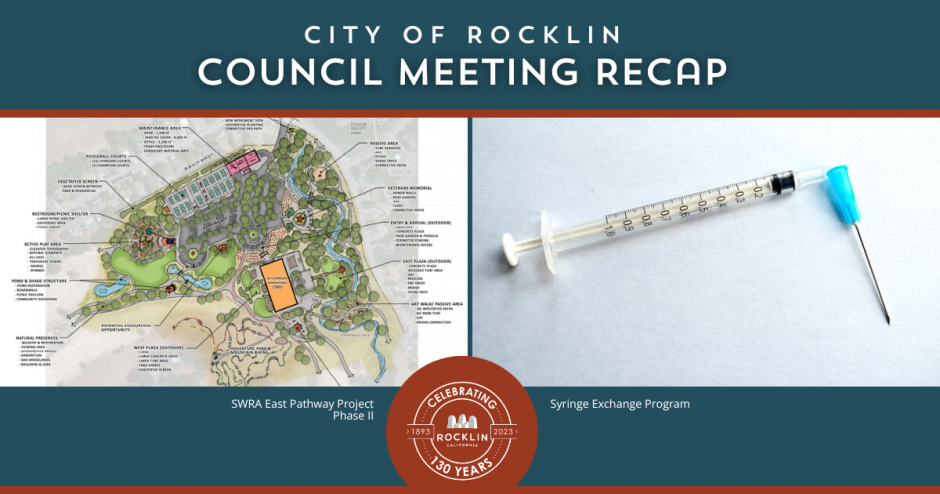 Syringe Exchange Programs Prohibited in Rocklin
During last week's meeting, Rocklin City Council voted unanimously to adopt an urgency ordinance prohibiting Syringe Exchange Programs (SEP's) in Rocklin.
Rocklin Police Chief Rustin Banks raised several concerns with implementing SEP's in the city. Not only is there no provision of the Rocklin Municipal Code that specifically addresses SEP's, but these programs can operate from anywhere and could lead to negative impacts on public health, safety, and welfare.
Additionally, this program could lead to situations where needles are not disposed of properly, and there is a lack of sufficiently demonstrated safety procedures and protocols when distributing these needles. The applicant for this program did not address concerns over deliveries in public spaces, such as in parks or around schools, which raises additional concerns over the safety of children in the community.
Any SEP authorized by the California Department of Public Health (CDPH) must comply with applicable local ordinances, and this urgency ordinance will prevent the SEP's from operating in the City.
See the agenda packet to learn more about the ordinance
SWRA East Pathway Project Phase II
Rocklin Council adopted a resolution accepting additional construction completion for the Sunset Whitney Recreation Area (SWRA) East Pathway Phase II Project.
These additional projects consisted of connecting Sunset Blvd. with the SWRA trail and included curb, gutter, sidewalk, and drainage improvements.