Rocklin Reopening City Offices on Tuesday, May 26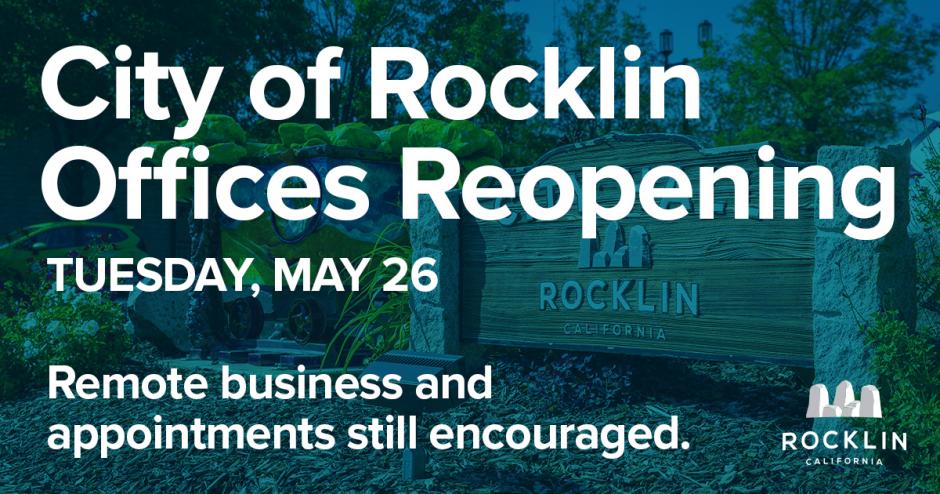 City of Rocklin offices will reopen to the public on Tuesday, May 26, in compliance with the State of California's Resilience Roadmap allowing office functions to resume where telework is not possible.
The City has implemented key prevention practices recommended by public health authorities to reopen safely and responsibly, including, but not limited to:
Physical distancing to the maximum extent possible, including installation of protective barriers at front counters and between employee workstations
Encouraging customers to use face coverings at all times when inside City buildings
Encouraging employees to use face coverings when interacting with customers and when physical distancing is not possible between employees
Frequent handwashing and regular cleaning and disinfection of surfaces
Employee training and information on the elements of the COVID-19 prevention plan
Posting of recommend behaviors for employees and guests in prominent areas
Customers are asked to conduct as much business as possible with the City online or by phone, but front counters and lobbies will be open during regular business hours. Staffing will be limited as teleworking continues, where possible.
"The health and safety of Rocklin citizens, our employees and the entire community continues to be our highest priority," City Manager Steve Rudolph said. "City staff have served residents throughout the pandemic and we all look forward to safely increasing our availability to facilitate the important business of our residents, businesses and stakeholders."
City of Rocklin leadership will continue to monitor public health recommendations, evaluate procedures and make changes accordingly.
For ongoing City updates related to COVID-19, visit www.rocklin.ca.us/coronavirus.
View contacts for City offices here.
City Clerk
Contact the Office of the City Clerk at (916) 625-5564.
City Manager's Office
Contact the City Manager's Office at (916) 625-5583
Code Enforcement
Contact Code Enforcement at (916) 625-5498
Community Development
To schedule an appointment with the Permit Center, Planner of the Day, Engineering or building inspectors, email building@rocklin.ca.us or call (916) 625-5120.
Finance
Contact the Finance Department at (916) 625-5020.
Fire Department
Contact the Fire Department administration at (916) 625-5200.
Human Resources
Contact the Human Resources Department at (916) 625-5050. Current City job listings can be found at https://www.rocklin.ca.us/job-openings.
Parks and Recreation
Park facility rentals, programs and activities are cancelled through Sunday, June 14. To inquire about future activities or rentals, please call (916) 625-5200.
Police Department
Non-emergency crimes can be reported online at https://www.rocklin.ca.us/online-crime-reports. The Police Department will only be conducting live-scans on a limited basis. For more information, call the department's non-emergency line at (916) 625-5400.
Public Services
Contact the Public Services Department at (916) 625-5500.