Rocklin Rd. and Pacific St. Roundabout Construction Update
Nov 11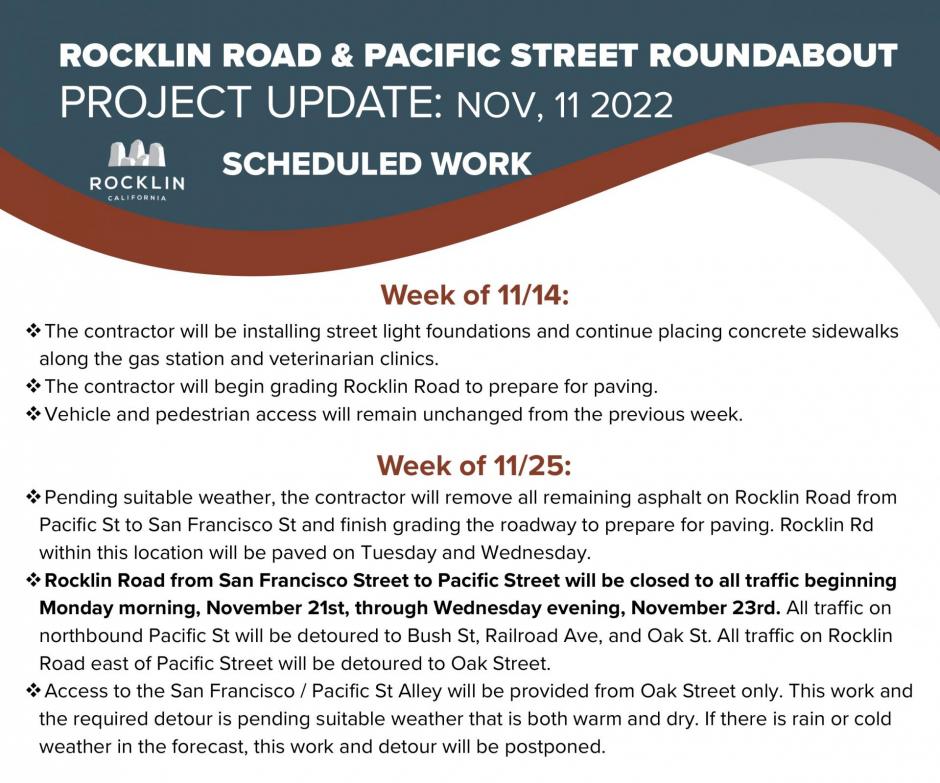 Week of November 14:
The contractor will be installing street light foundations and continue placing concrete sidewalks along the gas station and veterinarian clinics.
The contractor will begin grading Rocklin Road to prepare for paving.
Vehicle and pedestrian access will remain unchanged from the previous week.
Week of November 25:
Pending suitable weather, the contractor will remove all remaining asphalt on Rocklin Road from Pacific St to San Francisco St and finish grading the roadway to prepare for paving. Rocklin Rd within this location will be paved on Tuesday and Wednesday.
Rocklin Road from San Francisco Street to Pacific Street will be closed to all traffic beginning Monday morning, November 21st, through Wednesday evening, November 23rd. All traffic on northbound Pacific St will be detoured to Bush St, Railroad Ave, and Oak St. All traffic on Rocklin Road east of Pacific Street will be detoured to Oak Street.
Access to the San Francisco / Pacific St Alley will be provided from Oak Street only. This work and the required detour is pending suitable weather that is both warm and dry. If there is rain or cold weather in the forecast, this work and detour will be postponed.