November 8 City Council Recap
Affordable Housing Project; Community Recognition; Police Substation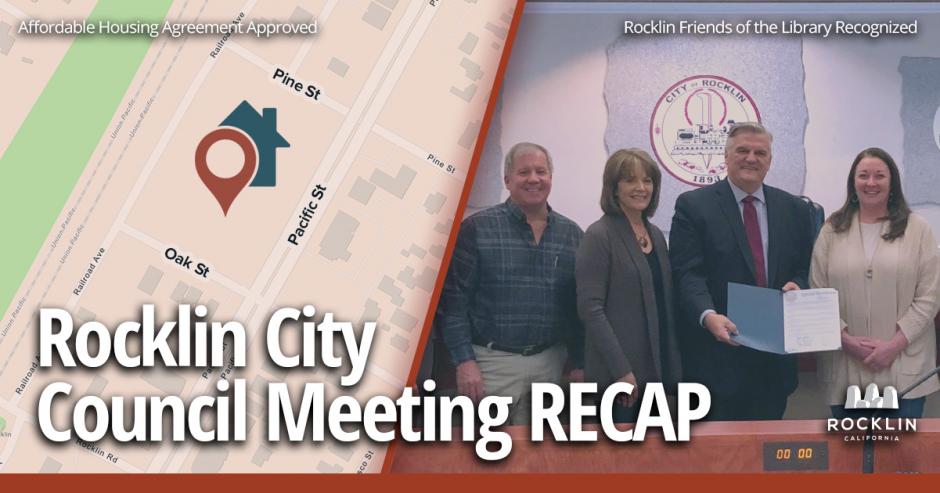 Oak & Pine St. Affordable Housing Project Moving Forward
Rocklin City Council approved a resolution to proceed with the Oak and Pine Affordable Housing Agreement and Ground Lease with Community HousingWorks.
The Affordable Housing Apartments project will consist of 1.8 acres at the corner of Oak St. and Pacific St. with close proximity to schools, the Rocklin Library, grocery stores, parks and transit stations. Preliminary site plans project that the location will include over one-hundred apartment homes serving large families earning 30%-60% Area Median Income (AMI). Proposed amenities include community rooms, computer labs, onsite management and play areas among other benefits.
The City holds a Ground Lease of the site as well, maintaining ownership and partnership with the developer to and through project occupancy.
Find the item packet for the Oak and Pine St. Affordable Housing Agreement here.
Police Substation Approved in Rocklin West Shopping Center
The Rocklin City Council approved a Lease Agreement with Smithway Associates, Inc. for the establishment of a Police substation at 6827 Lonetree Blvd. Suite D101A in the Rocklin West Shopping Center.
From a law enforcement standpoint, Rocklin is split into four different beats, (areas of responsibility for police patrol, included in the graphic below), with the main station located between beats one and two in the southwestern portion of the City. The new Police Substation will be located in beat four.
The one-year substation lease will serve as a pilot program to measure police presence in the area and potential benefits of using substations in the city. It could also serve as a deterrent to potential criminal activity in the area and provide an alternate meeting location for those residents that live, work, or play in this area of Rocklin. Additionally, the building will provide Rocklin PD staff a place to conduct business (write reports, conduct interviews, etc.), and allow officers to cover their beat areas more efficiently.
It is important to note that this will not be a full-service Police Station. Dial 9-1-1 for emergencies, and to report crimes, please utilize the main Police Station at 4080 Rocklin Rd.
City Recognizes Forty Years Of Service From the Rocklin Friends Of The Library
Mayor Bill Halldin gave a special presentation Tuesday night to recognize the Rocklin Friends of the Library for forty years of exceptional service to the community.
"This is a group of people who have been really dedicated to ensure Rocklin had a library, " Mayor Halldin explained. "They have been there to support, promote and enhance the library with many outstanding donations and programs, including a $40,000 donation the week prior."
City Council presented representatives of the group with an award that honored their efforts.
Getta Dolinsek, President of the Rocklin Friends of the Library, shared her thoughts as well.
"The thirteen women who started this put a lot of effort into getting this library in our community going and we'd like to thank the Rocklin residents and City Council for supporting the library and the Friends of the Library throughout the years."