March 22 City Council Recap
Housing Element Progress Update, Rocklin Fire and PD Annual Reports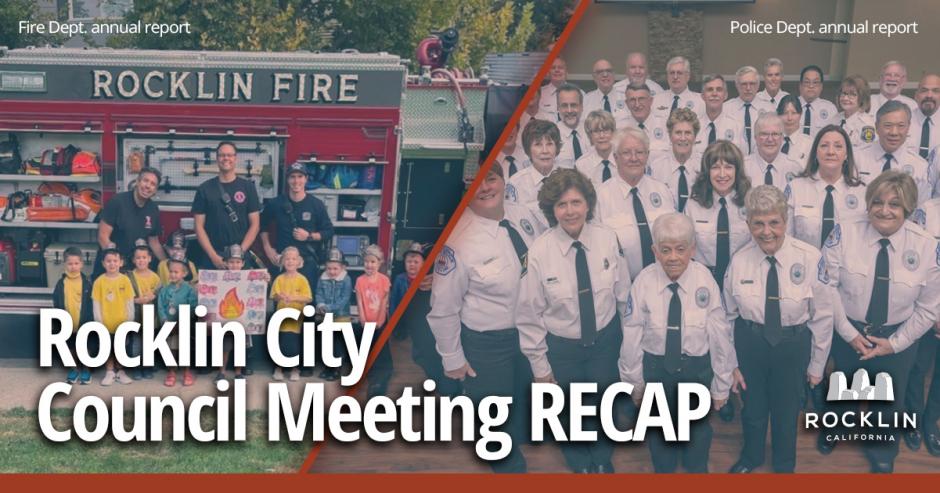 Housing and General Plan Progress Reports for 2020-2021
Rocklin's Community Development Dept. staff presented state-required progress reports on Tuesday detailing how Rocklin is meeting its share of the regional housing needs identified in the City's 2021-2029 Housing Element and other General Plan activities.
Housing activity continued to stay strong in 2021, with a total of 519 residential building permits issued during the reporting period. This included 314 single-family units, 194 multi-family units and 11 accessory dwelling Units (ADU's).
The City has made progress toward meeting Regional Housing Need Allocations (RHNA) in the 2021 reporting period with units constructed in the extremely low, low, moderate and above moderate categories. The City continues to evaluate the inventory of available sites at densities providing the potential for lower income units to be constructed on an ongoing basis.
The General Plan report also included descriptions of general plan amendments rezones made in 2021 related to the Quarry Row subdivision and Rocklin Corporate Center sites.
The reports can be found in Items 15 and 16 of the March 22 City Council agenda.
Rocklin Fire Annual Report – Item 17
Rocklin Deputy Fire Chief Shawn Watkins presented the Rocklin Fire Department's 2021 annual report to the City Council this Tuesday night. The full report can be found here.
Watkins outlined data on the number and type of calls to each station, response times, heat maps showing the locations of fire and emergency medical service calls, travel times to calls, and more.
"As an all-risk fire department, we are called on to respond to a variety of incidents, ranging from cats stranded on rooftops to residential structure fires," Watkins said. "No matter the call, fire personal respond and mitigate all emergencies in the most professional and proficient manner."
Rocklin PD Presents Annual Report – Item 18
Rocklin Police Chief Rustin Banks and Crime Analyst Shawn Baird formally presented the 2021 Rocklin Police Department Annual Report to City Council Tuesday night. It can be found here.
The 2021 report features the traditional statistics on crime, traffic activity and response times, but also has an increased focus on the variety of work done by the different units and divisions of the police department.
"Our goal was to maintain the important data points that we are all used to in this report, but also include some additional information highlighting the good work that our staff does day-in and day-out," Police Chief Rustin Banks said in his opening remarks.
The report showed a 13% overall decrease in crime in 2021, with 15 crimes per 1,000 residents, down from 17.2 crimes per 1,000 residents in 2020.