Rocklin Fire 2021 Annual Report
Finalized Fire Strategic Plan, Fire Prevention Bureau Created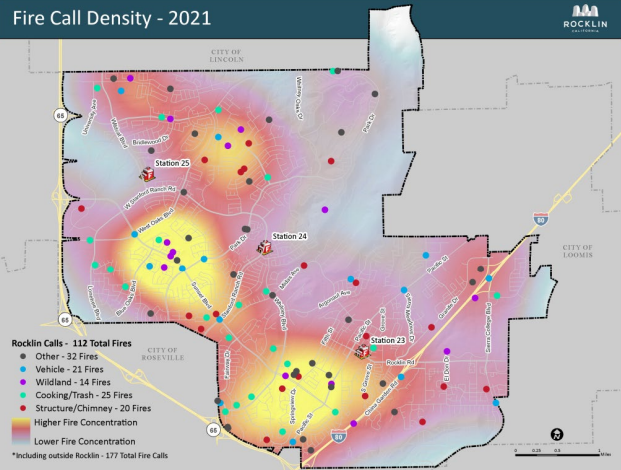 Rocklin Deputy Fire Chief Shawn Watkins presented the Rocklin Fire Department's 2021 annual report to the City Council this Tuesday night. The full report can be found here.
Watkins outlined data on the number and type of calls to each station, response times, heat maps showing the locations of fire and emergency medical service calls, travel times to calls, and more.
"As an all-risk fire department, we are called on to respond to a variety of incidents, ranging from cats stranded on rooftops to residential structure fires," Watkins said. "No matter the call, fire personnel respond and mitigate all emergencies in the most professional and proficient manner."
In 2021, the fire department saw an increase in calls for service when compared to the last two years, responding to 6,290 incidents in 2021, a 19.6% increase from 2020 and 9.9% increase when compared to 2019. Emergency medical services continue to account for the majority of calls, making up 69% of the volume.
Watkins also reviewed key initiatives accomplished by the fire department in 2021, including the completion of the fire department strategic plan which establishes goals, objectives and measurable outcomes that will help continue to improve performance.
The department formalized a new fire prevention bureau, which will be critical in maintaining community safety through fire prevention and education. The bureau includes a new fire marshal position, who will also be responsible for collaborating with the business community to help ensure a safe and healthy environment for patrons.
Public outreach and education was also highlighted, including hands-only CPR training, outreach to classrooms, and community event participation.