August 8 City Council Meeting Recap
SWRA Master Plan Update; Fentanyl Prevention Awareness Day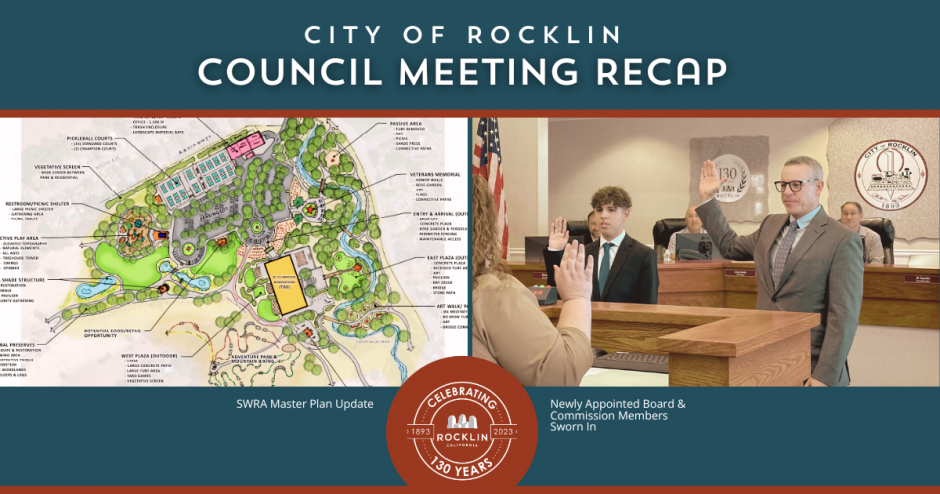 Newly Appointed Board & Commission Members Sworn In
At the August 8, 2023 City Council meeting, Haley Reid, Acting City Clerk, swore in two newly appointed commission members. Jarod Thomas was sworn in as the newest Planning Commissioner, filing an unexpected vacancy, which will expire June 30, 2026.
The Planning Commission consists of five members appointed to alternating terms by the City Council. Responsibilities of the Planning Commission range from approval of residential neighborhoods, commercial shopping centers, and industrial parks to recommending policies to the City Council regarding long range planning, zoning criteria changes, and land development related topics.
The Planning Commission holds its regular meetings on the first and third Tuesday of each month at 6:30 p.m. in the Council Chambers, 3970 Rocklin Road.
London Diaz was also sown in as our new Parks and Recreation Youth Commissioner. The Youth Commissioner is a non-voting commissioner who serves a one-year term, which allows them to observe our Parks & Recreation Commission. This Commission advises and makes recommendations to the City Council on matters regarding the long-term planning, acquisition and/or development of parks, open space and trail systems and on works of art considered for acquisition by the City.
SWRA Master Plan Update
Also last week, City Council approved updates to the Sunset Whitney Recreation Area (SWRA) Master Plan.
The contract amendment for the project, led by Melton Design Group (MDG), will include creating a Concept Plan for Veteran's Memorial Park involving preliminary lighting plans, cost analysis, and design renderings among other factors.
The 184-acre unused land, formally the Rocklin Golf Club, was purchased by the City in 2018. On April 26, 2022, City Council approved the Master Plan contract with Melton Design Group for SWRA in order to ensure the area is developed appropriately.
Read more about Rocklin's SWRA Master Plan.
Rocklin Approves National Fentanyl Prevention & Awareness Day
Mayor Broadway presented to council a proclamation recognizing August 21, 2023 as National Fentanyl Prevention & Awareness Day in Rocklin.
Fentanyl-contaminated drugs are killing people every day. Zachary Didier, a Rocklin teen, passed away after taking a counterfeit Fentanyl pill in 2020. This Day was established in remembrance of those lost to illicit fentanyl poisoning and to acknowledge the devastation this drug has brought to hundreds of thousands of affected family members and friends.
Interested in being a part of Team Rocklin? Apply now for multiple open City positions.