August 24 Council Meeting Recap
2021-2029 Housing Element Adopted; Terracina at Whitney Ranch Approved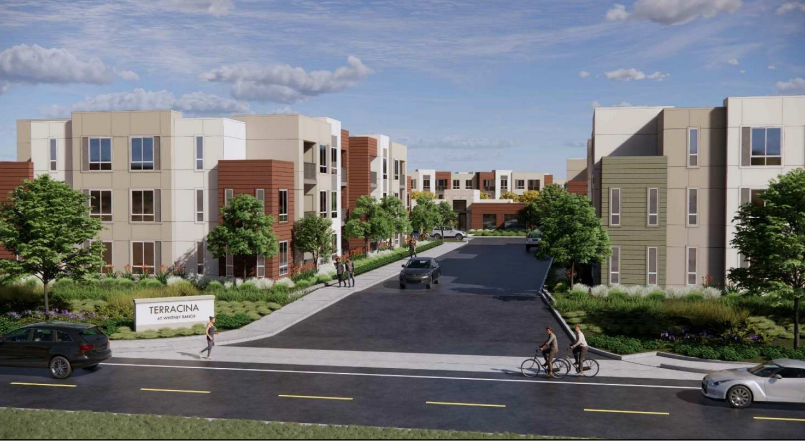 Terracina at Whitney Ranch Approved
Terracina at Whitney Ranch, a 288-unit apartment community on 11.7 acres in between Wildcat Blvd. and University Ave., was unanimously approved. A mix of one, two, and three-bedroom units are planned in twelve rectangular three-story buildings arranged around the site. A clubhouse, pool, and other outdoor amenities are also included.
Of the 288 units, 285 would be rental units affordable to low, very low, and extremely low-income households with income ranging from 30% to 70% of area median income. These units will provide much needed workforce housing to entry level professionals, young people, and others in the community, as well as help the City of Rocklin meet state-manded housing requirements.
The project applicant, USA Properties, intends to file for state tax-exempt bonds and low-income housing tax credits to help finance the project. The tax credits are competitive and projects applying for funding in September 2021 will be notified of their status by December of 2021.
2021-2029 Housing Element Update Adopted
The City of Rocklin will submit their 2021-2029 Housing Element Update and associated documents to the State for certification after the plans were adopted by City Council Tuesday night.
On an 8-year cycle, the City must re-evaluate its goals and policies regarding housing existing and future residents, while striving to maintain Rocklin as a desirable community in which to work and live. The Housing Element describes and analyzes the housing needs of Rocklin residents and issues confronted by the City. The Housing Element also outlines the official City response to addressing the community's housing needs in relation to availability, adequacy, and affordability.
A major part of updating the City Housing element is meeting the state's Regional Housing Need Allocation (RHNA), which dictates a target for how many affordable and market rate housing units should be built over the next 8 years.
While the City doesn't build housing, it must rezone enough parcels of land in the City to a high density residential designation to provide the capacity for developers to build approximately 3,500 affordable units in this cycle alone. An additional 2,000 market rate units must also be accommodated.
To do this, over the past three years the City has dedicated significant resources and used innovative and inclusive strategies. One strategy was to form a RHNA committee of citizens, elected officials, developers, City staff and others who met every to two to three weeks over a nine-month span to analyze data and develop a plan to rezone land around the city and recommend a plan for the RHNA portion of the housing element. That plan was ultimately presented to City Council, modified with Council and citizen input, and used to finalize a significant portion of the updated housing element.
The process to achieve a final product has been arduous and a group of citizens attended the Council meeting Aug. 24 to express their concerns to the rezoning of specific parcels in the plan. The citizens were concerned the new zoning would open the door for development they see as undesirable in their neighborhood in the future.
Chief Butler Honored in Retirement
The Rocklin City Council honored retiring Police Chief Chad Butler with a special resolution on Tuesday night, thanking him for his exemplary service to the City and Rocklin community.
Chief Butler had served as Rocklin's police chief since January 2017, after rising through the ranks and proving his capacity for project and people management each step of the way since joining the city in 2003.
Chief Butler will be missed but the City is in good hands as Captain Trent Jewell will serve as acting police chief, effective August 28. The City has already begun recruitment to fill the police chief position on a permanent basis.
###
Find the full agenda and details on all items, including video of the discussions, here.