City Council Honors Retiring Police Chief Chad Butler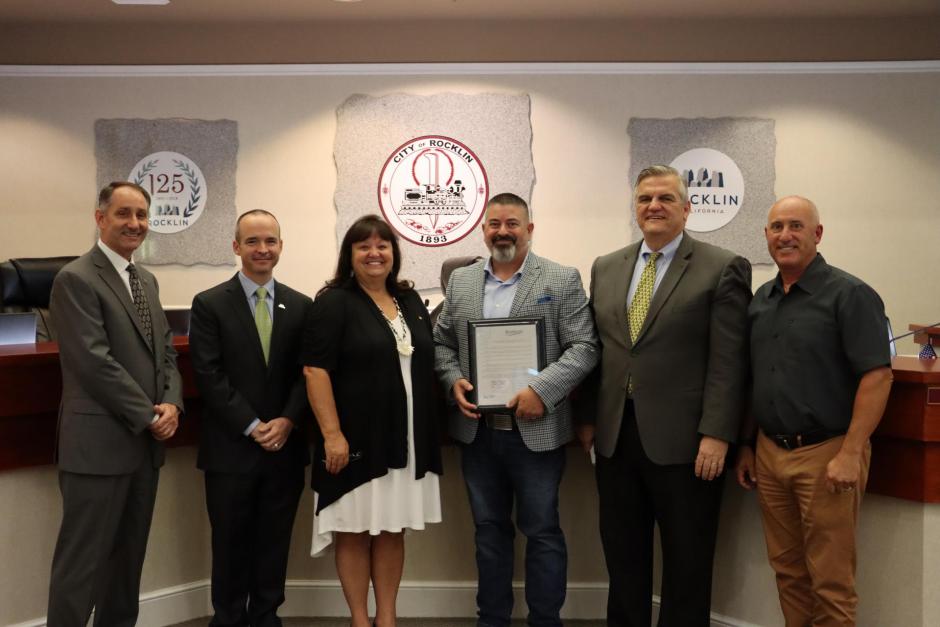 The Rocklin City Council honored retiring Police Chief Chad Butler with a special resolution on Tuesday night, thanking him for his exemplary service to the City and the Rocklin community.
Chief Butler had served as Rocklin's police chief since January 2017, after rising through the ranks and proving his capacity for project and people management each step of the way since joining the city in 2003.
"Rocklin has been recognized as one of the safest communities in California and that has been on your watch," Mayor Jill Gayaldo said during the meeting. "Being the daughter of a highway patrol officer, I don't think people realize the load officers carry, not just for your team but for the City as a whole. I have undying gratitude."
Butler has spent 29 years of his career in public service as a police officer, sergeant, lieutenant, caption and chief. He also served as Rocklin's interim city manager in 2020.
"Although I appreciate all the credit that you give me, I also don't want to forget the men and women who actually make the City of Rocklin one of the safest cities in California," Butler said from the dais. "It's always going to be the people in the street, it's always going to be the first line supervisors, your lieutenants and captains that really are the driving force of this police department."
Chief Butler will be missed but the City is in good hands as Captain Trent Jewell will serve as acting police chief, effective August 28. The City has already begun recruitment to fill the police chief position on a permanent basis.