Aug 13 Council Meeting Recap
New Rules Coming for Short-Term Rentals and Strategic Plan Updates
Short-Term Rental Regulations Designed for Accountability
Owners who list Rocklin properties for short-term rent on sites like Airbnb and VRBO will soon need to comply with new regulations approved by City Council on August 13.
The new ordinance requires people listing short-term rentals in Rocklin to obtain a permit from the City and sets ground rules for operation, which include:
All short-term rentals may only be rented for 90 days per year
The permittee or designated secondary contact must be able to be onsite and respond to any complaints within 30 minutes
Lodging is limited to six people, or two people per number of bedrooms, whichever is greater, and guests in excess of that limit are not allowed after 10 p.m.
The permittee may not rent both a dwelling unit and an accessory dwelling unit on the same parcel
The permittee may not rent to a person under the age of 21, and the person renting the property must also be staying at the property
No permittee shall allow any special event that would otherwise require a city permit.
Current Rocklin regulations also call for people operating short term rentals to collect a transient occupancy tax of eight percent of the rent (local hotels are also required to do so) to be paid to the City.
The proposed ordinance initially required that owners of short-term rentals occupy their property as a primary residence, but that condition was removed from the approved version of the ordinance.
The rules are similar to regulations enacted by other cities in the Sacramento region and are designed to increase operator accountability after recent violent incidents, including a shooting at a short term rental in Rocklin.
The new ordinance will take effect 30 days after it is formally adopted by City Council. The next meeting is scheduled on Sept. 10.
Strategic Plan Update Approved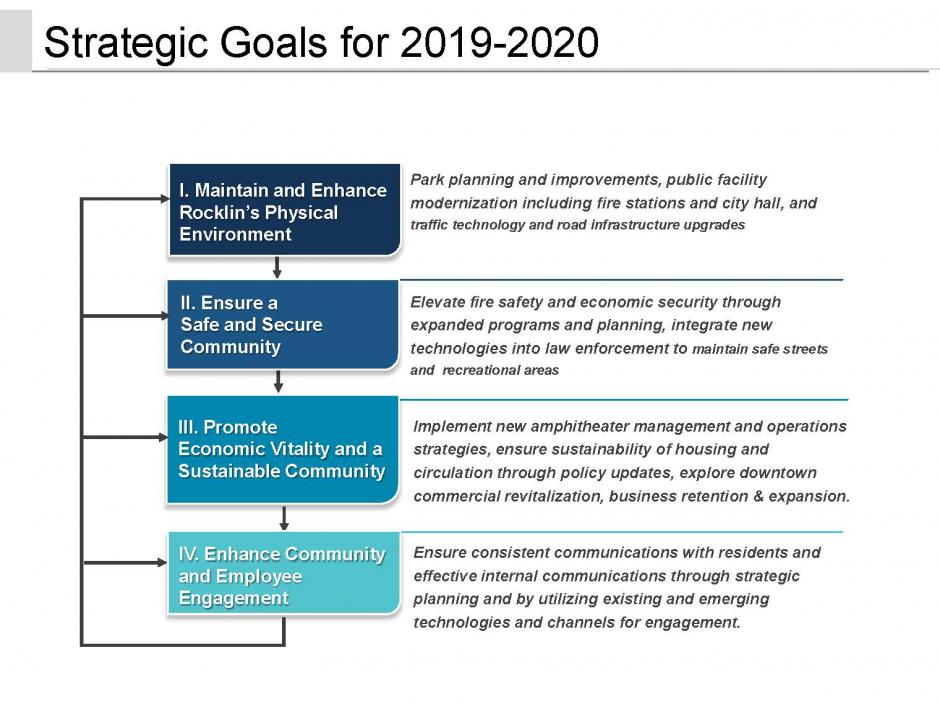 An update to the City's Strategic Plan was approved August 13, with goals broken down into four categories, including:
Maintain and Enhance Rocklin's Physical Environment
Ensure a Safe and Secure Community
Promote Economic Vitality and a Sustainable Community
Enhance Community and Employee Engagement
Projects that are listed under the categories include completing design of a splash pad at Johnson-Springview Park, analyzing Fire Department standards of response time, creating a strategic communications plan to enhance interaction with residents, and many more.
Rocklin's strategic plan is a "living document" that serves as a guide for each department. The initial version of the plan was created in January 2019 and City Council is scheduled to meet approximately every six months to review objectives and set new goals moving forward.
The public is encouraged to stay informed by signing up to receive City communications updates, and to attend or review City Council meetings.
Cell Tower Installation, QPA Update and Public Safety Power Shutoffs
Three resolutions were approved related to the installation of a temporary cell tower in Whitney Community Park. The temporary tower will be replaced by a permanent, more aesthetically-pleasing model, within two years.
A public hearing was also held to approve a resolution to extend entitlements for the Rocklin Meadows Subdivision, with Council approving the resolution.
City reports featured an update on Quarry Park Adventures, a discussion on proposed updates to City temporary sign regulations, and a report from City staff and PG&E on the potential effects of public safety power shutoffs and how best to prepare.