The World's Ultimate Elvis Concert
Quarry Park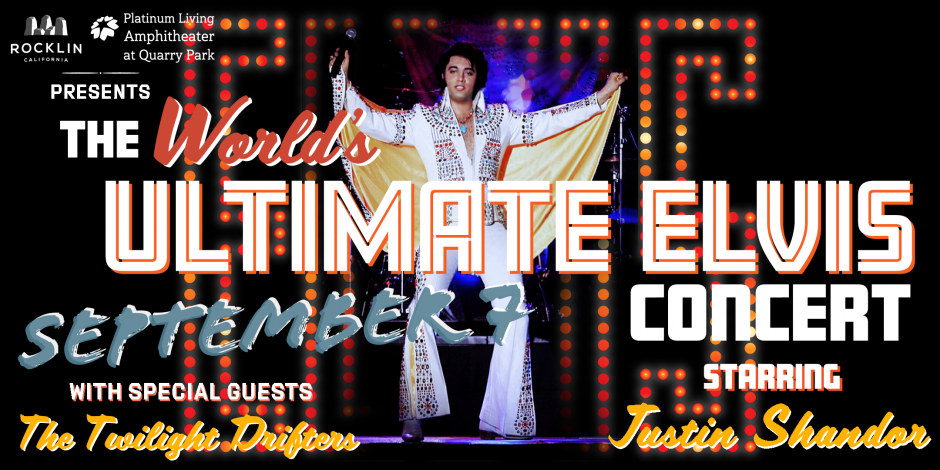 Named "The Ultimate Elvis Tribute" by Graceland in 2010 and featured on David Letterman, Justin Shandor embodies the spirit of "The King" in this unforgettable tribute show!

WHEN: Saturday, Sept. 7, 2019 7:00 pm - 10:00 pm. Gates open at 7 p.m.
LOCATION: Platinum Living Amphitheater at Quarry Park, 4000 Rocklin Road, Rocklin, CA 95677
TICKETS: Tickets on sale at ElvisInRocklin.eventbrite.com
SEATING CHART: For reference of seating locations within Quarry Park, please check HERE.
All ticket sales are final and non-refundable. Refunds are only issued if an event is cancelled. Events are rain or shine.
FOOD TRUCKS:
RULES & REGULATIONS: Read this rules & regulations to find information about approved lawn chairs, beverages, and more.
PARKING / DROP OFF LOCATIONS: Parking for the Ultimate Elvis
BAR: Beer & Wine sold to 21+ with valid ID. Credit card and cash accepted.
Since the passing of the King more than 37 years ago, there has never been a tribute artist that has so captured the look, moves, and especially the sound of the King more than Justin Shandor. According to the Jordinares, (Elvis's original background singers, which Justin has performed with on several occasions), Justin has the raw talent that shot Elvis to the top. His likeness to the King is so close that at one time Graceland emailed a casino where Justin was performing and told them they could not use a real picture of Elvis to advertise their event. It was a picture of Justin! In August of 2010, Elvis Presley Enterprises held a contest in Memphis and invited the top Elvis tribute artists from around the world. Justin came in first place and Graceland named him the "World's Ultimate Elvis!" He is the only Elvis Tribute artist to make the front page of USA Today, and was recently featured in an issue of French Vogue magazine. Justin is an international sensation having performed in England, Australia, Malaysia, the Fiji islands, and several tours to Canada and Sweden. At the end of August, 2013 Justin performed three consecutive shows for over 15,000 people in Santiago, Chile and headlined in Collingwood, Canada, performing for over 20,000 people. He is so phenomenal, that right after singing on David Letterman on February 6th, 2013, in front of an estimated 35 million viewers, David Letterman ran over to Justin and yelled "Justin, wonderful, wonderful, do it again, do it again!" There are thousands of Elvis fans all over the world that honestly feel that Justin is the closest Elvis tribute artist that they have ever seen. His voice is so strong that he was asked to sing a song written for Elvis over forty years ago by one of Elvis's writers – Michael Jarrett ("I'm Leaving"). In the last two years Justin and his manager have created the World's Ultimate Elvis Band made up of horns, gospel singers, strings and rhythm section that has cloned the music of a Elvis's 70's show. The response of Elvis fans has been overwhelming.
Introducing on the Brower Mechanical Firehouse Stage – The Twilight Drifters
The Twilight Drifters are a rockabilly and roots rock 'n roll trio based in Northern California. Described as an "American roots music sensation", the Twilight Drifters draw upon such artists as Eddie Cochran, Gene Vincent, Bill Doggett, Big Joe Turner, Bob Wills and Elvis Presley, channeling sounds of the 1950s into a mix of re-made classic and original songs. Performing danceable tunes spanning genres of rock 'n roll, honky tonk, western swing, rockabilly and west coast blues, the Twilight Drifters offer a compelling musical experience that entertains, moves, and captivates audiences.
____________________________________________________________
Accessible Event Notice
Concerts at Quarry Park are accessible to persons using wheelchairs and others with disabilities. Informational material is available in large print. Assistive listening devices, materials in other alternative formats, American Sign Language interpreters and other accommodations will be made available upon request. Contact Kevin Huntzinger, 916.625.5269, Providing at least 72 hours' notice (or two weeks' notice for American Sign Language interpreters) will help to help ensure availability.
In order to assist the City's efforts to accommodate persons with severe allergies, environmental illness, multiple chemical sensitivity or related disabilities, attendees at public meetings are reminded that other attendees may be sensitive to various chemical based scented products. Please help the City to accommodate these individuals.
Accessible parking is available at: City Hall Parking Lot
For inquiries or requests for accommodations, please call: (916) 625-5200
____________________________________________________________