Dump Coupon Offered in Place of Cleanup Day
Valid from Nov. 2 - Nov. 30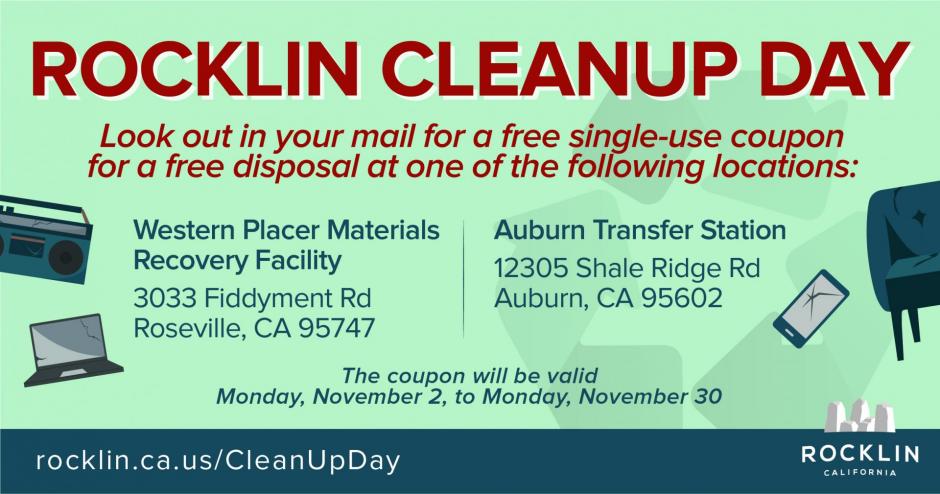 Recology Auburn Placer and the City of Rocklin have collaborated to provide the enclosed two-yard dump coupon to Rocklin customers at no-charge. The coupon is valid from Monday, November 2, through Monday, Nov 30, 2020 at the Western Placer Materials Recovery Facility and the Auburn Transfer Station. The addresses are listed below.
Recology and Rocklin are offering this opportunity after COVID-19 restrictions forced the cancellation of the traditional waste drop-off event in April 2020. Rocklin Cleanup Day helps residents dispose of items that normal trash collections will not take, including electronic waste.
Western Placer Materials Recovery Facility
3033 Fiddyment Road
Roseville, CA 95747
Auburn Transfer Station
12305 Shale Ridge Road
Auburn, CA 95602
The following E-Waste is allowed:
Computers, monitors, laptops, computer peripherals
TV's (plasma, LCD), stereo equipment, speakers, VCR, tape recorders, etc.
Phones, radios, calculators
The following restrictions apply:
Coupon does not apply to household hazardous waste.
All lawn mowers / weed eaters are to be emptied of oil and fuel
No pool chemicals, motor oil or propane tanks
No car batteries
No tires
Trailers must be no larger than 4' wide by 8' long
No U-Haul type trucks
Anything above 2-cubic yards will be charged
Please contact Recology Auburn Placer with questions at (530) 885-3735.