Rocklin Quarry Park Tree Lighting
Quarry Park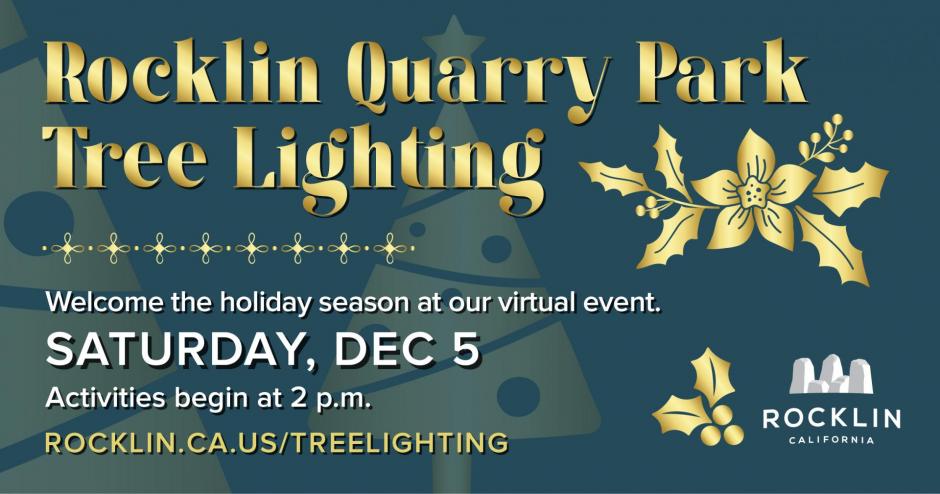 Join us as we host the annual Tree Lighting event virtually! We have fun activities planned throughout the day to help get you in the holiday spirit!
WHEN: Saturday, December 5, 2020 | Starts at 2 p.m. PST
WHERE: Virtually on YouTube | Links: Video links will go live at the scheduled time of each activity.
COST: Free
SCHEDULE OF VIRTUAL ACTIVITIES:
2 p.m. – Music Play List: Get in the holiday spirit and check out this playlist created by Rocklin Parks and Recreation on Spotify
>>LINK: Spotify Playlist https://open.spotify.com/playlist/2KTx7MFaN7hz1mMtBn4E5i
3 p.m. – Craft Project: Join along in this easy to follow Snowman craft project with Onelly Olivas-Perez from Rocklin Parks and Recreation! Materials needed will include: scissors, markers, a glue stick, little googly eyes, and mini clothes pins, as well as the printable template for the craft. Craft Template
>>LINK: YouTube https://youtu.be/3NhiaOSi4n0
4 p.m. – Story Time Reading: Snuggle up with the family, while Kathie Nippert from the Rocklin Historical Society and Rocklin Friends of the Library reads "The Night Before Christmas" for all of us to enjoy.
>>LINK: YouTube https://youtu.be/r1FtsQwGLcs
5 p.m. – Performance: Local singer, Dana Moret performers a few of her favorite holiday classics.
>>LINK: YouTube https://youtu.be/oKXcThb-MVc
6 p.m. -The moment we've all been waiting for! Join us as Rocklin leaders share memories of Tree Lighting's past and some of their favorite holiday memories as we countdown to the lighting of the Rocklin Tree!
>>LINK: YouTube https://youtu.be/o-g4PmtVkWQ