Commemorative Tree & Bench Donation Program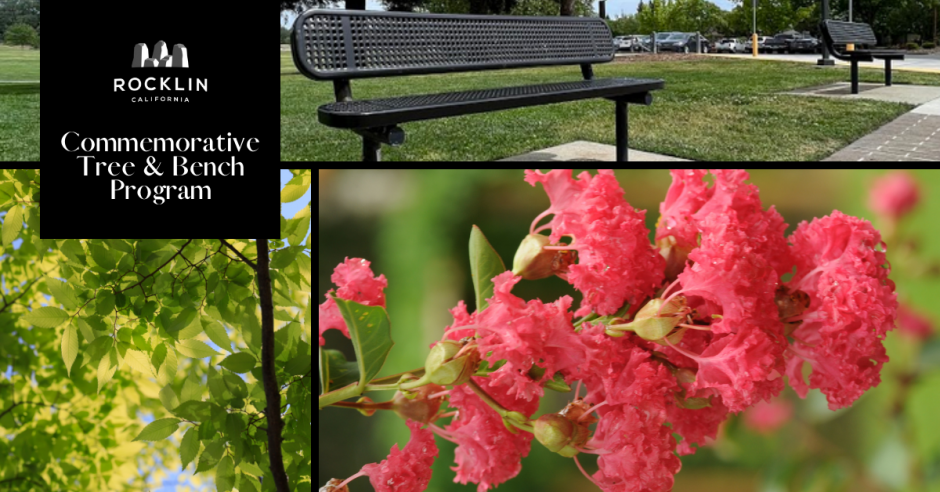 Commemorate individuals or families through this special program by donating a tree or bench in their honor. There have been predetermined locations, tree species, and specific benches that will be available for placement as part of this donation program.
Click the link below to review and complete the application.
Commemorative Tree & Bench Donation Application Packet
PROCESS:
If you would like to participate in the City of Rocklin's Commemorative Tree and Bench Donation Program, below is the process.
Applicant to review and initial the City of Rocklin Parks and Recreation Department Tree and Bench Donation Policy.
Complete the Commemorative Tree and Bench Donation Application and submit to the Parks and Recreation Department.
The Director of Parks and Recreation will provide either a temporary approval or denial of the application.
The temporary approval will be submitted to the Parks, Recreation, and Arts Commission (PRAC) during a regular meeting, which is held the 2nd Wednesday of the month.
Once approved, an agreement between the City and the Applicant will be created.
The Applicant will then sign the agreement and pay the appropriate fees at the Parks and Recreation Office.
Parks Staff will then proceed with ordering and installation.
For any questions, please call the Rocklin Parks & Recreation Office at 916-625-5200.