U.S. Honor Flag Raised in Rocklin to Honor Heroes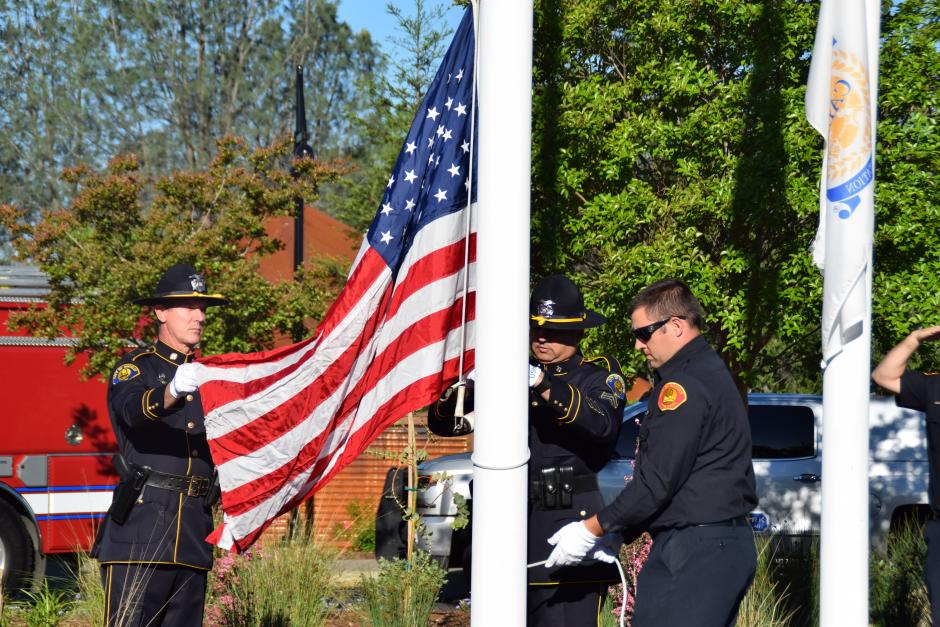 The U.S. National Honor Flag was raised at the Rocklin Police Station on Monday, May 1, to honor Rocklin police officers, firefighters, first responders and military personnel who have lost their lives in the line of duty and those who currently serve our communities and nation.
Rocklin City Manager Rick Horst, The Rocklin Police Department and the Rocklin Fire Department participated in the ceremony with The Honor Network President and Co-Founder Chris Heisler.
"I'm personally moved to have the U.S. Honor flag fly here in Rocklin in tribute to those who have given everything to protect our communities and country," said Rocklin Police Chief Chad Butler. "It's a privilege to lead the men and women of Rocklin's Police Department, serving alongside our Fire Department counterparts."
The U.S. Honor Flag first flew over Ground Zero shortly after the September 11 attacks, and has flown aboard Space Shuttle Atlantis, over the Pentagon, above state and national facilities, and attended funerals and tributes for America's fallen heroes killed in the line of duty.
The U.S. Honor Flag will remain in the area this week and will be taken on Wednesday, May 3, at the John Adams Academy in Roseville at 10 a.m. and at Roseville Kaiser Permanente Medical Center at 1 p.m.
For more information about the U.S. Honor Flag and the Honor Network, visit ushonorflag.org.