Rocklin Accepting Applications to Fill Unscheduled City Council Vacancy
Selected candidate service set to expire in December 2022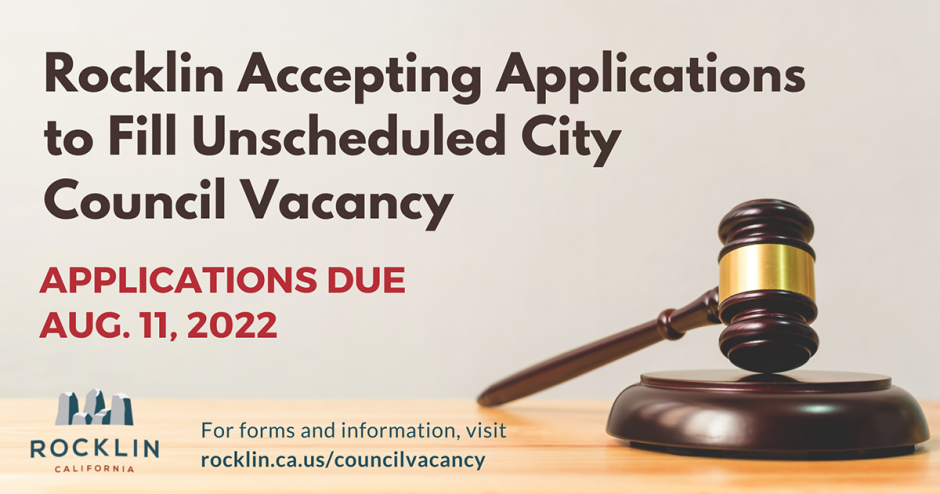 The City of Rocklin is now accepting applications to fill an unscheduled vacancy on the Rocklin City Council. The selected candidate will be appointed to serve on the City Council until the certification of the Special Election on November 8, 2022, wherein a candidate will be elected to fill the position.
A special meeting of the City Council has been scheduled on August 18, 2022, at 6 p.m. to interview applicants in open session and make the appointment.
The application to be appointed to the Rocklin City Council can be found here: City Council Vacancy Application (2022)
The deadline to submit the application is August 11, 2022, at 5 p.m.
Complete applications should be returned in person or by mail to:
Rocklin City Clerk's Office
3970 Rocklin Rd
Rocklin, CA 95677
Or by email to:
hope.ithurburn@rocklin.ca.us
For more information on the application process, please contact Hope Ithurburn, City Clerk at (916) 625-5564 or hope.ithurburn@rocklin.ca.us.
The unscheduled vacancy in the office of City Council with the term of office expiring Dec. 2024 was created when City Councilmember Joe Patterson resigned, effective on June 30, 2022.
On July 5, 2022 at a Special Meeting of the City Council, the City Council adopted a resolution electing to make an appointment to a vacant position on the City Council and giving notice of a Special Municipal Election to be held on November 8, 2022, for the election of one City Councilmember for a term of two years.