Off The Rails
A Public Art Project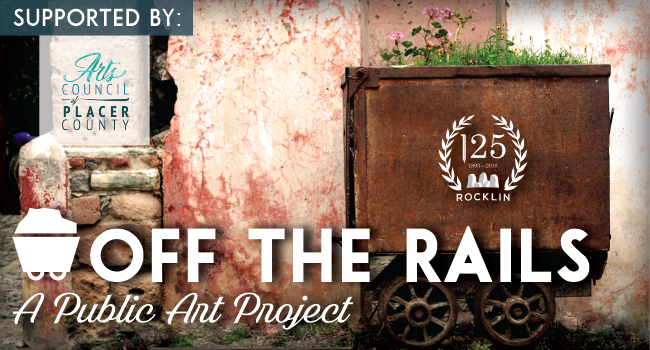 In Celebration of the City of Rocklin's 125th Birthday, The Arts Council of Placer County and The City of Rocklin Present "Off The Rails," a public art project! These art pieces honor our heritage and take a peek into our future, all while making a lasting impression on the community through public art.
Supported by the The City of Rocklin Parks, Recreation and Arts Commission and Arts Council of Placer County
WINNING ARTIST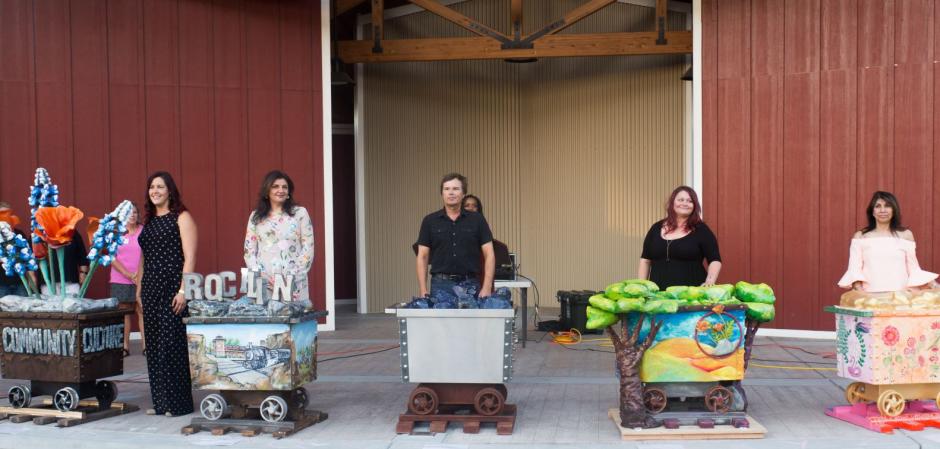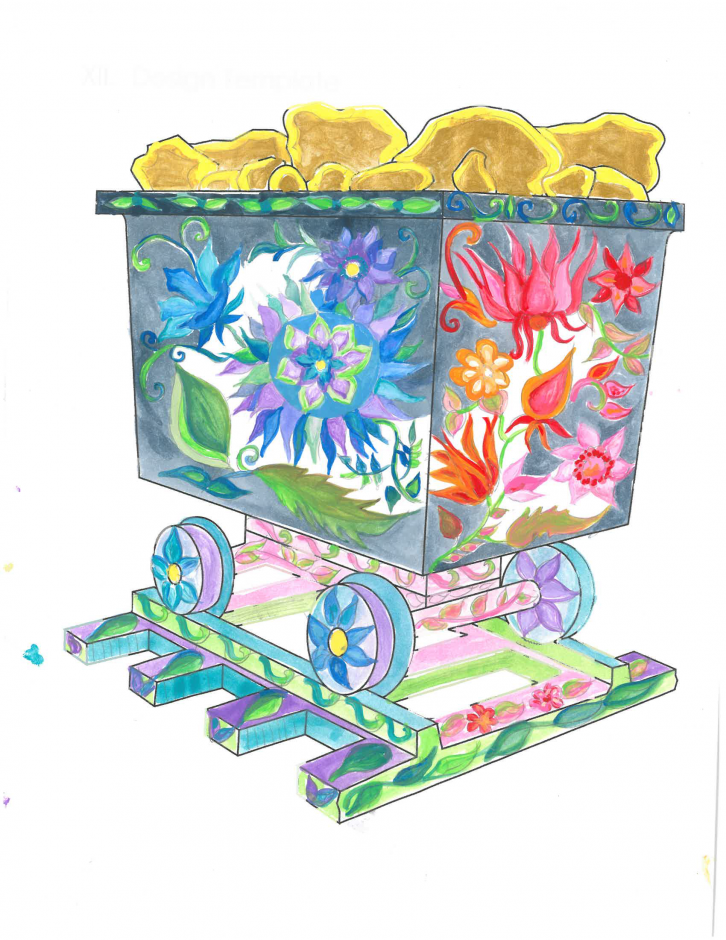 "The Four Seasons: Rocklin in Bloom" by Artist: Simmi Chopra Lall
Artist Bio: I started painting when I was ten years old. Painting started as a pastime, however, my parents recognized my talent at a young age, and helped me to cultivate my talent further. I remember often I would be the only child in a room full of adults learning complicated techniques and methods of sketching, mixing colors, and painting in different mediums. I won several competitions and have a large personal collection of artwork that I have painted. While my inspiration comes for nature and still life, my favorite thing to paint is flowers. I'm a big fan of flowers! I find flowers to be something that can always bring happiness. Flowers are also so simple but so complex. They are truly representative of life; the various stages of our lifecycle from birth, adolescence, and death, as well as a range of emotions from sorrow, healing, and happiness. Recently, we resided in the United Arab Emirates where I found a renewed passion for painting. During this time I have started to specialize in the American Embassy in the United Arab Emirates. We recently moved back to Rocklin to help care for my elderly parents. My mother was a very big nurturer and always pushed me to practice my art. She also is a big influence in my painting as she was also very fond of nature, flowers, and natural wonders. Something as simple as a mountain or trees would keep her in awe. Along with painting, I'm a practicing certified yoga instructor as well as a certified reiki healer. I believe nature and environment physically and emotionally should always be in balance. In this way my painting and yoga instruction always align and influence my work.
Side Note: "It would be a tribute to my beautiful mom who passed very recently. My last memories of my mom all center around Rocklin; her happiness at having moved to this beautiful city, and her awe and amazement of Rocklin's natural wonders. I can truly say she found peace after coming to this city and experiencing its beauty. There was never a day she was not smiling after she moved to Rocklin."
Design Statement: "In this design, every side of the quarry cart would be different season (i.e. spring, summer, fall, and winter), executed by using a floral theme. The design is inspired by my mother who recently passed away. My mother moved to Rocklin last year after leaving her hometown in Florida where she spent a majority of life. She was very fond on the outdoors, especially flowers. I will never forget her reaction to Rocklin and how it perfectly sums up the city's ambiance. She was in awe of how beautiful the city was and the splendor of the natural beauty you find everywhere in this city. Not only was the beauty nature of the city inspiring to my mother, it has been inspiring to the rest of our family as we recover from her recent passing. Everywhere I look right now, it seems like Rocklin is in bloom. The city's natural beauty is invigorating and in designing this quarry cart I would like to impart this feeling to others. In order to execute the design I will first hand sketch the design and then use golden acrylic paints."
________________________________________________________________________________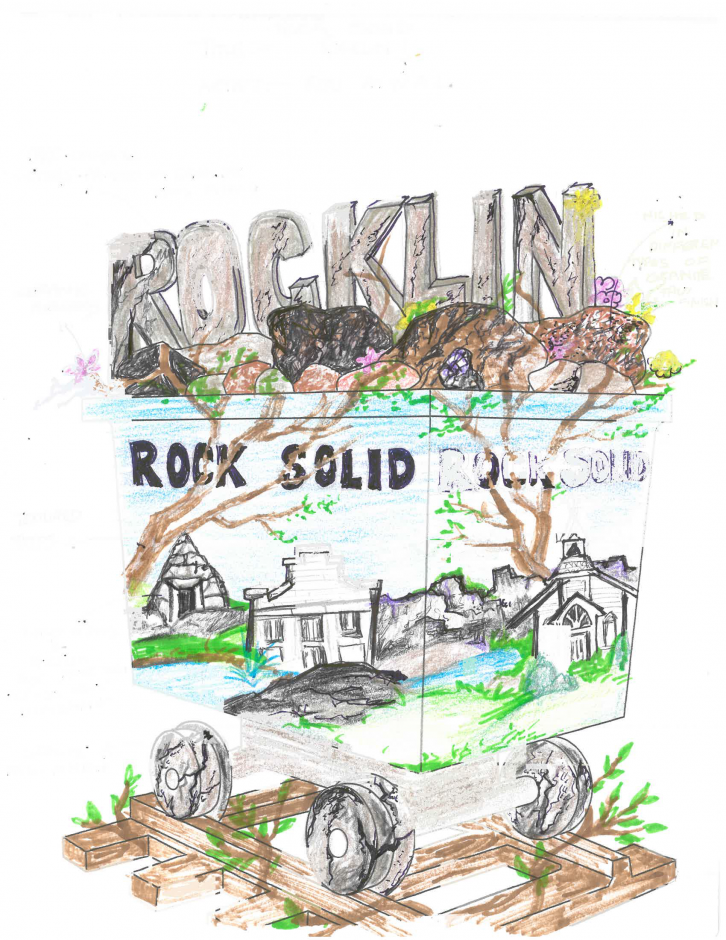 "Rock Solid Rocklin" by Ritu Atwal
Artist Bio: "I was born in India and moved to U.S.A. about 23 years ago. Having always had an interest in the creative arts, I took a few classes in faux-finish and murals, while living in the bay area. I moved to the Rocklin/Roseville area about 20 years ago and have worked part-time as a muralist. Recently, I changed my focus to more fine-art pursuits, and work mostly in canvas, using mixed mediums and college techniques. I have been part of the P.A.S.T. tours for last 3 years and also am a member of R.F.A."
Design Statement: "Inspired by the history of Rocklin, this piece will depict the land-mark buildings and quarries of Rocklin, set up against a background of greenery and trees – for a complete picture of the cities perseverance, beauty, and charm. The trees and buildings will have some depth and dimension, as they will be textured, using various hardy material and acrylic textures. All the rocks in the cart will be painted to showcase all the different types of granite stones, using faux-finish techniques, in acrylic paints."
________________________________________________________________________________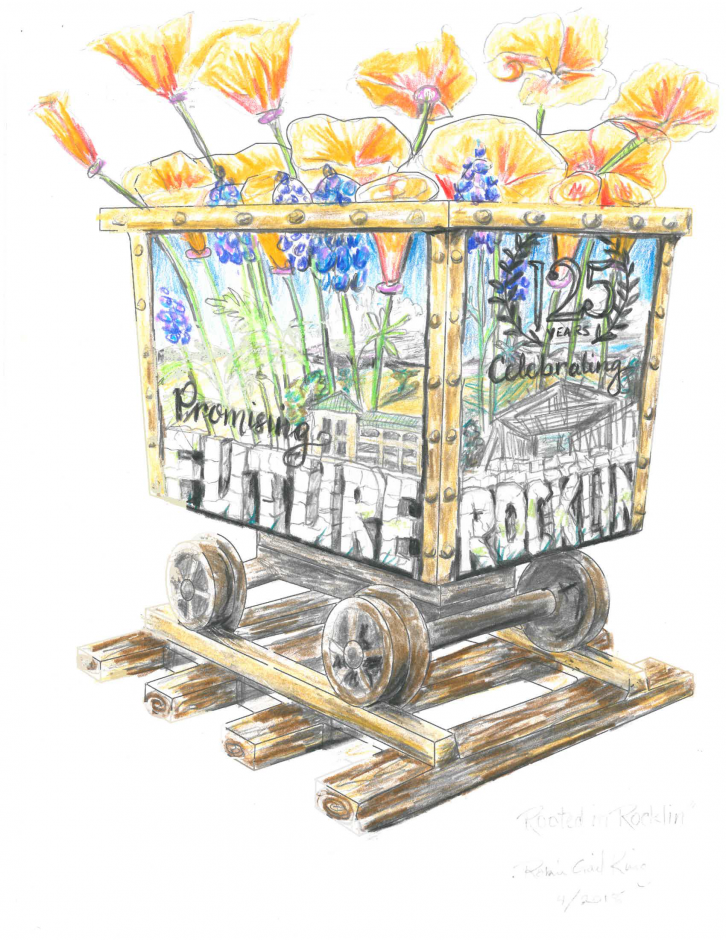 "Rooted in Rocklin" by Robin Gail King
Artist Bio: Robin is a mixed media artist, specializing in studio painting and vintage finish hand lettering. Her experience as an artist began as a child in her family's sign business. Robin gained her knowledge from hands on learning in a variety of mediums, rather than through formal education, and while she's always been a creative, it's only been in recent years that she has made it her profession. She began by teaching painting and art at Penryn Elementary in 2013, then expanded and began hosting painting events, painting commissioned fine art, painting murals, and performing live paintings at Bridgeway Church in Rocklin. In 2016, she completed one year of studies in applied arts at Sierra College. Since, she has entered her work in local shows and art events, such as High Hand Gallery's Steampunk Holiday Faire, and Beatnik Studio's "Light out of Darkness" show. Robin enjoys taking on projects that starch her creative abilities. She has recently had an outlet for this creativity in the theater department at Del Oro High School, creating complicated, elaborate costumes and set pieces. Robin works out of her newly installed studio at her home in Auburn, where she enjoys consistent business from loan officers and real estate agents who order her signs as closing gifts for their clients, as well as painting commissioned fine art. Much of Robin's work can be viewed on her website at www.robingailart.com. She is also active on Instagram as @robingailart and Robin Gail Art on Facebook.
Design Description: Imagine a bouquet of wild flowers springing out of a collection of historical points of interest, all contained in the mining cart. The riveted rims, overlaid with antiqued gold leaf, symbolizing this "Golden State" and the scenes of old Rocklin and it's bright future depicted in high quality acrylic paint on all four sides of the cart. My idea for this design stems (no pun intended) from some of my mixed media art; recently, a painting of California poppies, and a while back, an old locomotive painted over vintage maps. (I happen to be obsessed with our state wildflower, and I love that It blooms so prolifically in this area. To me poppies represent resilience and joy, which to me are indicative the spirit of Rocklin. And because I love lettering so much, I would include the words "remembering history, building the present, promising future, 125 years celebrating Rocklin" around the lower rim of the cart as depicted). The poppies stemming up beyond the main frame of the cart will be created with the help of a friend who does metal work. They will either be formed out of metal and bolted to the body of the cart, or sculpted out of fiberglass by a body shop, as recommended in the application, then will be painted with high quality acrylic paint. The poppies, as well as the rest of the images on the body of the cart will also be painted high quality acrylic paint. The completed cart will be sealed with a UV and graffiti resistant clear coat.
________________________________________________________________________________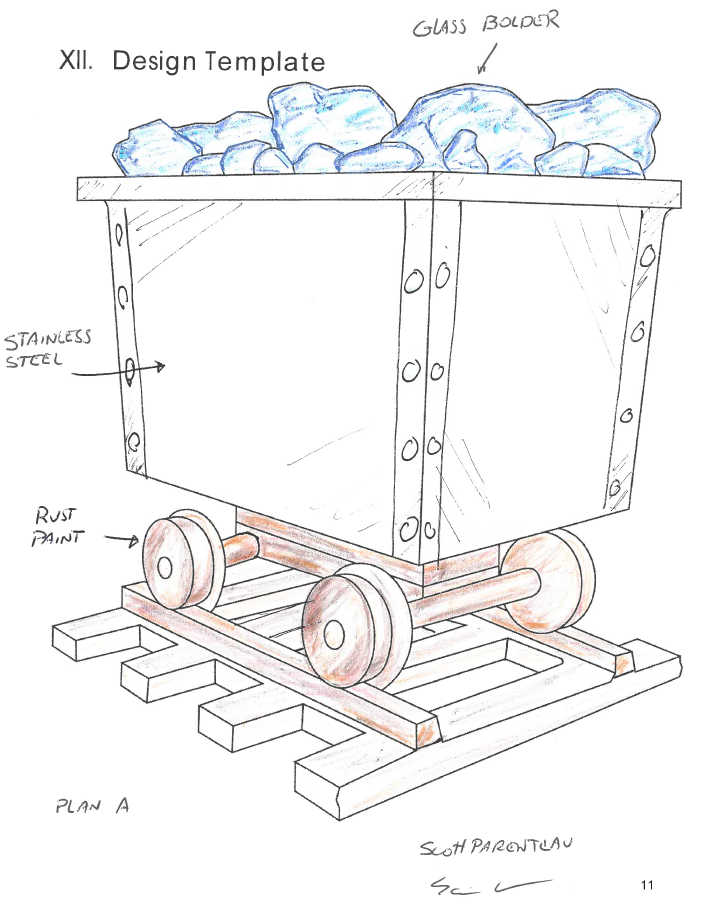 "Transition" by Scott Parenteau
Artist Bio: I am a native to Sacramento California and have created kinetic art that has been displayed at many Burning man, the San Francisco Exploratorium, and many Maker Faires. My work has been published in two books, popular science magazine and recently Dwell magazine's web site. You can see some of my work by Googling either: "Scott Parenteau," "Tinspider," "Walkingpod," and "Tinman Buring Man". However, all of my art has been temporary and I have always wanted to create more permanent public art works. I am hoping Rocklin will be the place I start my next big step into the public Art world.
Design Description: For the OFF THE RAILS project I propose to remove the original fiberglass rock section of the cart and replacing it with slag glass rocks and may need to supplement the reaming rocks with natural ones due to the cost of the glass but still will have enough to achieve a beautiful display. A screen and metal frame will be used to support the glass block and solar cells will activate LED spotlights below the glass block. The body of the cart will be wrapped in stainless that have a satin finish. The lower wheel section will be painted to look like rusted steel and will also have some actual rusted steel components. The theme for this is the rusted bottom half of the cart is to represent Rocklin's solid but historical beginnings. The shiny stainless mid-section is to represent Rocklin's present modern city that has risen from its historical background. The top is to represent the success Rocklin will have in the future by replacing stone with jewels.
________________________________________________________________________________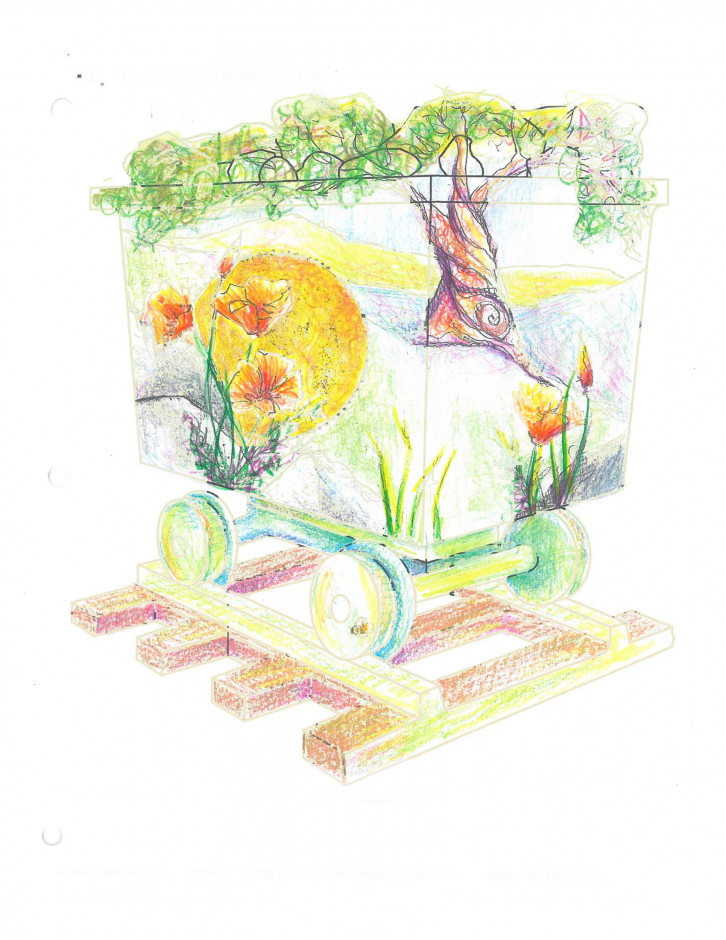 "Cali Kaleidoscopes" by Karen Feiling
Artist Bio: Over the past 20 years, award winning and self-taught illustrator, painter and designer, Karen Feiling, has become known for her vibrant, emotive abstracts and whimsicals illustrations. For the past several years Karen has participated in "Local Business, Local Art Collective" showing her work throughout Placer County. She works in a variety of mediums and has done art installations for the renowned Sunset Music Festival as well as several local commissioned mural projects and music media. Karen's work has been featured and published globally and she is currently working on her own publishing projects. You can see her work at comealive art.com. "Painting, building layer upon layer, a rich history develops much like memories. I approach the process loosely, intuitively interacting with my canvas. Vivid, emotional landscapes emerge, telling stories through raw color, texture, patterns and symbolism. Many of my collectors have shared that they 'appreciate the moods my work provokes inside them.' I passionately create art that stirs the soul, that connects not only to the beauty and joy of the human experience, but also to what lives beyond what is visible." – Karen Feiling
Design Description: I intended to use the following materials: Acrylic paints and texture mediums, spray enamel, epoxy modeling clay and epoxy resin, along with the required materials on the application to ensure proper adherence and lasting finish. My cart design: A vibrant, abstract/illustration style landscape capturing the rolling hills of Rocklin in the spring. It will be depicting beautiful native flowers and wild green grass with a few large oaks. In the Foreground I will use the epoxy modeling clay to create a thin relief of some outcropping of granite stones as well as a small bunch of California Poppies. This area will be enhanced with a very simple geometric mandala type frame.
________________________________________________________________________________