Quarry Park is Prepped and Ready for the 2018 Concert Series!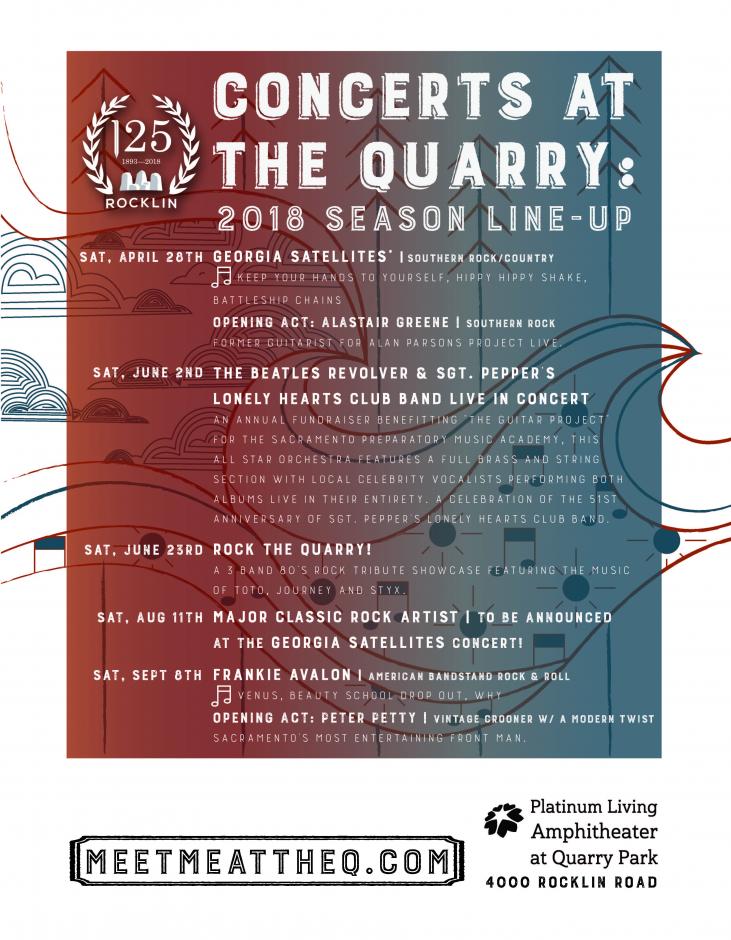 The Platinum Living Amphitheater at Quarry Park has excited crowds since its opening in 2016 by hosting star-powered national acts in addition to up-and-coming local bands. Now entering its third season, the summer concert series continues to evolve, bringing a variety of talent and sounds to Rocklin.
"We wanted to have a well-rounded season that touches on different musical styles," says Dana Moret, Production Coordinator for the City of Rocklin. "It's something the community has been asking for so you'll see a little bit of everything at Quarry Park this year."
The 2018 Quarry Park Summer Concert Series will include:
The Georgia Satellites, with special performance by Alastair Green
Saturday, April 28
Sacramento Preparatory Music Academy along with the City of Rocklin present
The Beatles, Sgt. Pepper's Lonely Hearts Club Band & Revolver, Live in Concert!
Saturday, June 2
Rock the Quarry, a three band 80's rock tribute showcase featuring the music of Toto, Journey, and Styx
Saturday, June 23
Major Classic Rock Artist, to be announced on April 28
Saturday, August 11
Frankie Avalon, American Bandstand Rock & Roll with special performance from Peter Petty
Saturday, September 8th
The concert series at Quarry Park not only provides great entertainment but has a positive impact on businesses and the local economy.
"We anticipate a sold out crowd for most of the shows and look forward to the business it will bring to restaurants and hotels in the area. To say we're eager for this series is understatement," Moret said.
The Georgia Satellites with Alastair Greene will kick-start the concert series on Saturday, April 28. The gates open at 6 p.m. and all ages are welcome. Tickets are on sale now at RocklinEvents.Eventbrite.com and start at $32.99 for general admission. There are variety of other ticket options including a discounted four-pack of tickets, seated options, and a special VIP ticket that includes meet & greets with the artists and front-of-the-house seats. Concert goers can expect an exciting outdoor show experience, complete with food trucks, vendors, and a high energy atmosphere.
More information about concerts and events at Quarry Park can be found online at www.MeetMeAtTheQ.com and on the "Rocklin Quarry Park" Facebook page. We will see you at the "Q" this summer!