Quarry Park Mural
A Public Art Project in Partnership with Wide Open Walls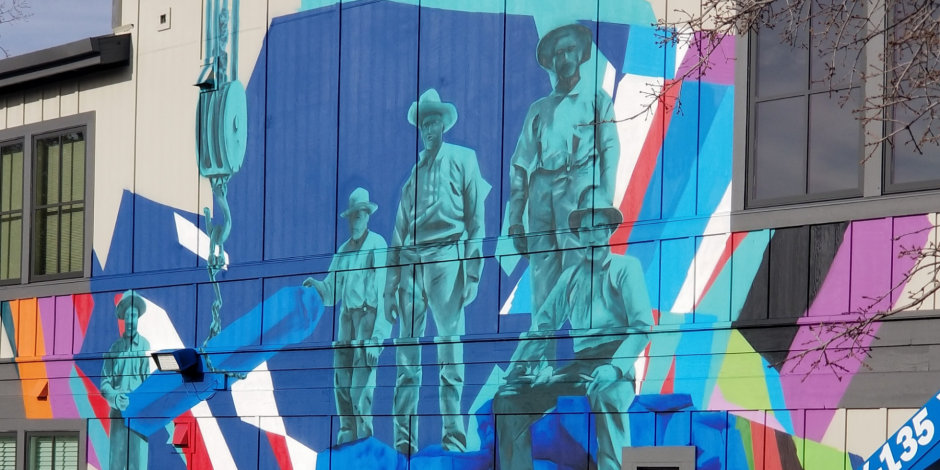 The faces of Rocklin's quarrying past have come to life in the form of a 30-ft high mural now complete on the walls of city hall that overlook Quarry Park Adventures.
The spray-painted mural, by local artist John Horton, combines bright colors and modern art elements depicting a true-to-life image of real quarry workers from days gone by. The combined effect is designed to incorporate Rocklin's rich history and the City's current vibrancy.
Rocklin's Parks, Recreation and Arts Commission and the Rocklin Art Task Force collaborated with Wide Open Walls to commission Horton, a Sacramento-based multidisciplinary artist with over 20 years of experience, to create the mural. Visit Placer and Quarry Park Adventures also sponsored the project.
"We were looking for a 'wow factor,' not just a photo replication on a wall," Rocklin Parks, Recreation, and Arts Commissioner Susanne Stockton said. "We wanted something that will hit every generation and speak to the values our community holds."
Stockton and her fellow Rocklin leaders believe public art, like the new mural, is an important part of a healthy community that invigorates public spaces and displays diversity of thought and expression.
Residents, and those from surrounding areas, are encouraged to view the new mural in person by taking a trip down the zip line at Quarry Park Adventures, during a walk through Quarry Park, or as part of a trip for needed business at City Hall.
Want to see how the mural was made? Take a look at the time-lapse video of the artist in progress! YouTube
This art project was approved by the following City Councilmembers, Parks, Recreation, and Arts Commissioners, and Rocklin Art Task Force members.
City Council:
Mayor Greg Janda
Vice Mayor Jill Gayaldo
Joe Patterson
Ken Broadway
Bill Halldin
Parks, Recreation, and Arts Commission:
Alison Winter
Twiana Armstrong
Susanne Stockton
Nancy Hartwell
Chris Anderson
Rocklin Art Task Force:
Jill Gayaldo
Twiana Armstrong
Susanne Stockton
Terri Olson
Trisa Swerdlow