Parking Information
Quarry Park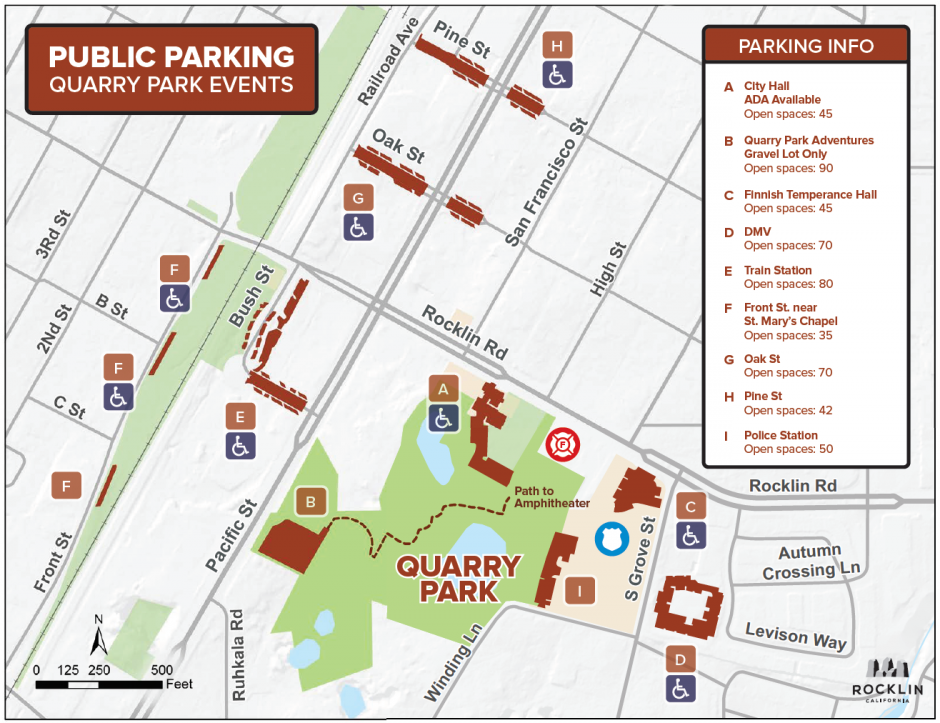 Please review the Parking Plan for events at Quarry Park.
PARKING
OTHER OPTIONS
ADA parking will be within the City Hall parking lot, located at 3970 Rocklin Road.
Drop off & pick up located within the Police Department driveway at 4080 Rocklin Road for ride-share options such as Lyft, Uber or Cabs. This can also be utilized for ADA drop off/pick up as well.
Free Parking Lots are located at the Rocklin Train Station, Oak & Pacific, and Pine & Pacific. Park at your own risk. Please be observant of all traffic signs.
No Parking available at Winding Lane or Finnish Temperance Hall. You may be ticketed.
PEDESTRIAN ROUTES
From Pre-Paid Parking Lot— Walk through Quarry Park Adventures and follow the dirt path to the Main Entrance of the Quarry Park Amphitheater
From Pick Up/Drop Off—Utilize secondary entrance near Quinn Quarry Pond.