May 14 City Council Meeting Update
Plans Approved Focused on Traffic Improvements and Fire Safety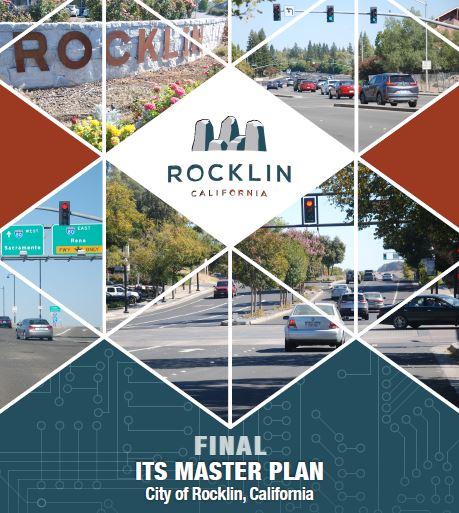 Intelligent Transportation System Master Plan to Make Rocklin's Roads Smarter
The City of Rocklin and the entire south Placer County area are rapidly growing. The increases in population and business activity have led to significant challenges facing efficient operations of local streets and roads. With an eye towards incorporating innovative technology into traffic management strategies, the Rocklin City Council adopted the City's first Intelligent Transportation System Master Plan on May 14.
Strategies to keep traffic flowing surely and safely over the next 10 years include connecting traffic signals along the main thoroughfares in the shorter term, establishing traffic communications links to the City of Roseville and Caltrans in the mid-term, and launching dynamic message signs to inform motorists in the long term.
The ITS master plan is available for review online and staff is working to bring back to Council recommendations for implementation which may include partnering with local utilities to install the fiber optic cables needed for traffic signal communication.
Fire Safety a City Priority
The City of Rocklin is fortunate to have designated open space lands throughout its limits, adding to the beauty and character of the area. The open space, often including dry grasses and other vegetation, also increases the community's fire risk and calls for focused attention to fire safety by public and private landowners.
Due to the unique challenges regarding Rocklin's land use, the Rocklin City Council introduced an ordinance on May 14 updating fire safe vegetation and debris management regulations. The ordinance, similar to state requirements, outlines fire safety rules for lots 0.50 acres or less and lots greater than 0.50 acres. Lots 0.50 acres or less are now obligated to mow grass/weeds to a height of less than 4" and remove all flammable vegetation on the property. Lots greater than 0.50 acres are required to mow grass/weeds to a height of less than 4" and remove flammable vegetation within a 100' of any structure, or to the property line, whichever is least. In addition, a 20' perimeter surrounding the property shall also be mowed or cleared of flammable vegetation and material.
City Council stressed that educating land owners on how they can follow the new rules is the top priority. The Fire Department is also committed to working hand-in-hand with property owners to help them make their lands, and by proxy their neighbors' land, as safe as possible.
Read the staff report and ordinance.
Rocklin preparing for growth outlined in Sierra College Facilities Master Plan
Sierra College's Facilities Master Plan calls for growth of campus facilities over the next 20 years and will include a new science building, a public safety center, additional student services buildings and a new parking garage. The growth of the college will allow it to train more skilled workers who are the backbone of the robust economy including nurses, firefighters, peace officers, and computer coders.
With more students and activity comes the need to improve surrounding infrastructure, including streets and roads. On May 14, the City Council approved a memorandum of understanding with Sierra College that will allow traffic in the Sierra College Blvd. and Rocklin Road area near the campus to flow adequately far into the future.
Key elements of the MOU are:
Sierra College shall provide a 25-year revocable offer of dedication for the additional right-of-way that is necessary to widen Rocklin Road to six lanes and to accommodate long-term circulation improvements identified in the Facilities Master Plan.
Sierra College shall pay into the Rocklin traffic impact fee program based upon calculations taking into account the cumulative total square footage of new development, not to exceed $1,380,913.80. The payments shall be in three installments: 50% upon approval of Facilities Master Plan and associated EIR; 25% upon Division of State Architect certification of New Instructional Building, and 25% upon Division of State Architect certification of New Science Building.
Sierra College will implement a traffic monitoring program to determine if and when on- and off-campus traffic improvements are necessary, specifically the widening of Campus Drive, intersection improvements to the El Don and Havenhurst Circle intersections with Rocklin Road, and a possible third entrance along Rocklin Road between the El Don and Havenhurst intersections.
Collectively, the land value of the additional right-of-way necessary for Rocklin Road widening, the cost of the campus repairs and improvements that would be needed as a result of widening Rocklin Road, the payment of traffic impact mitigation fees, and the on- and off-campus traffic improvements noted above are valued at approximately 8.2 million dollars.
View the full meeting agenda and videos of each item here.