Keeping Rocklin Running
Rocklin Fire Department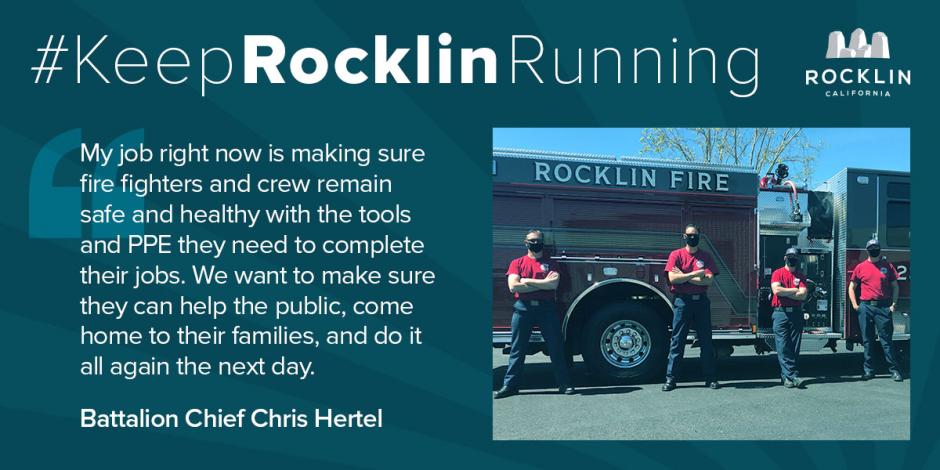 The men and women of the Rocklin Fire Department, from fire fighters and dispatchers to administration and management, are helping keep Rocklin's citizens safe and protected during the coronavirus pandemic.
The fire department has maintained adequate staffing for each of the three staff rotations. Fire fighters wear personal protective equipment (PPE) that prevents the spread of the virus and disinfect their gear after each call. The same number of people and engines respond to calls, but fire fighters are more aware of the risks and are taking steps to limit exposure.
Rocklin FD is coordinating closely with American Medical Response (AMR) in all emergencies that require transport to a hospital. Fire fighters assess each call when on-scene and limit contact at the scene as much as possible.
"I'm most proud of our ability to adapt in order to work together with dispatch, police, and AMR to protect not only our citizens, but anyone else who needs us," Battalion Chief Chris Hertel said.
In the Placer County, there has been an overall decline in the number of calls requiring transport to the hospital. This is likely due to residents listening to recommendations to stay home, reducing activity and the potential for incidents overall.
All City employees are practicing CDC and Federal Guidelines to prevent the spread of coronavirus. This includes social distancing while on the job and working from home when possible. Administration and office management are working from home for a majority of the time and have limited hours in the office, though they are still answering emails and calls from residents regarding grazing permits, fireworks, and more.
"My job right now is making sure fire fighters and crew remain safe and healthy with the tools and PPE they need to complete their jobs. We want to make sure they can help the public, come home to their families, and do it all again the next day," Battalion Chief Hertel said.