Keep Rocklin Running
Code Enforcement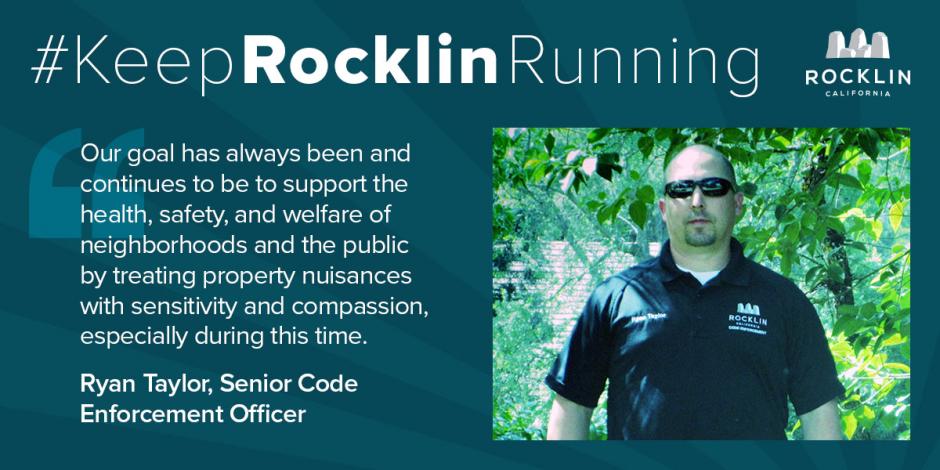 Senior Code Enforcement Officer Ryan Taylor is helping keep Rocklin communities safe and up to code by continuing to inspect and investigate code violation reports through the coronavirus pandemic.
"Our goal has always been and continues to be to support the health, safety, and welfare of neighborhoods and the public by treating property nuisances with sensitivity and compassion, especially during this time," Taylor said.
Code Enforcement has seen very little change in complaints and is still receiving about the same number and type of complaints for this time of the year. Overgrown vegetation currently has the highest volume of complaints. The most common code violations include:
Overgrown grass or weeds in public view lacking regular maintenance
Cars parked on the lawn or other unimproved surface
Accessory vehicles parked in driveways
Dilapidated or inoperative vehicles parked on private property and in public view
Abandoned vehicles on City streets
Garbage/trash scattered around the property
If the violation is corrected after a Courtesy Notice is left, no fine or written warning is issued.
For issues that may have been delayed due to closures from the virus, like inoperative vehicle registration with the DMV, Code Enforcement is working with residents as much as possible.
All City employees are practicing CDC and federal guidelines to prevent the spread of coronavirus. This includes social distancing while on the job and working from home, when able.
Taylor is able to spend two days a week working from home following up on open cases and working with residents to notify them of the new methods to obtain necessary permits while City offices remain closed.
When out on the field, Taylor is able to complete no-contact inspections. Code enforcement currently only interacts in-person with residents on safety-related issues uses the recommended personal protective equipment to contain the spread of the virus.
"It's an honor to serve our citizens, and our staff has been incredible with following all the guidelines. I've been in code enforcement for 12 years and can say Rocklin is one of the greatest cities I've worked for," Taylor said.