Farron St. to Close Aug. 12-17 at Railroad Tracks for Union Pacific Repairs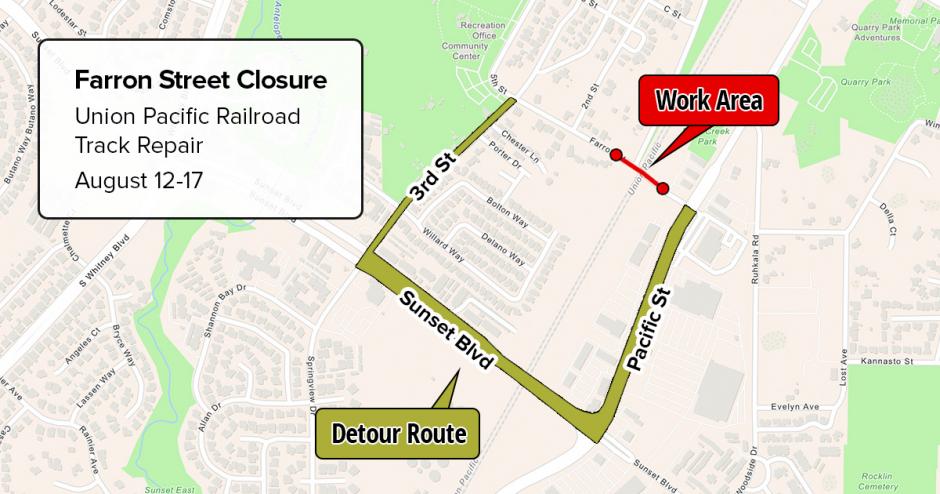 Farron St. will be closed at the Union Pacific railroad tracks from Friday, Aug, 12 through Wednesday, Aug. 17, for Union Pacific to conduct track repairs.
The round-the-clock closure will necessitate detours to access the Johnson-Springview Park neighborhoods and Front St. at Farron St. Motorists are encouraged to detour using Sunset Blvd. and 3rd St.
Front St. businesses can also be accessed by detouring to Bush St. from Pacific St., talking a left on Rocklin Rd. and then a left on Front St.
For more information, please contact Union Pacific foreman John Miller at (916) 365-6797 or RoadSafe Tech Alphonso Davis at (775) 291-4642.
Start Date
August 12
End Date
August 17
Type of Alert
Road Closure
Reason
Railroad track repair
Time of Day
24 hours
Project Lead
Union Pacific Railroad
Notes
Contact: UPRR Foreman Josh Miller (916) 365-6797
RoadSafe Tech Alphonso Davis (775) 291-4642