EVENT CENTER -THE GARDEN
2650 Sunset Boulevard, Rocklin

Few spaces are more calming and welcoming than a beautiful garden. Charm your guests and warm your heart with a ceremony in "The Garden".
This beautiful, lush garden has a pergola and a gazebo. 150 white ceremony chairs can be set up for your wedding guests. The Garden also includes a large fountain, dance floor, barbeque, benches, and large lawn areas.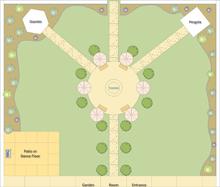 The Garden Details
Dimensions: (Garden)123′ X 118′
Square Feet: (Garden)14,514′
Dimensions: (Patio)36′ X 36′
Capacity: Included in primary room rental
The Garden Rates
Included, by request and availability, at time of rental of the Event Center Garden Room or Ballroom.
Hourly Rates
Conference or Event
Wedding Package

Minimum

Peak Time | Saturday
$160
$185

10 hours

Prime Time | Fri & Sat
$150
$175
8 hours
Non-Prime Time | Mon- Thurs
$135
$150
6 Hours
Provided by request with rental: Tables, padded chairs, room set-up. (of City equipment), Kitchenette, sound system, projector and screen.
Wedding package also includes: Bride Ready Room, Alpine/Groom Room, Garden (with chairs).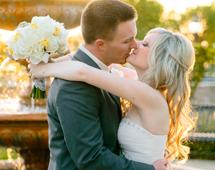 Contact a Venue Specialist: (916) 625-5239, Email, Inquiry Web Form