EVENT CENTER – BALLROOM
2650 Sunset Boulevard, Rocklin

This large open conference space seats up to 512 guests theatre style, 320 guests at round tables, 775 standing guests, and features a built-in stage, 21 foot ceilings, luxurious lobby, sound system, and tasteful neutral aesthetics.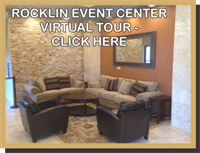 Take a Virtual Tour of the Event Center.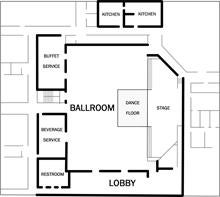 Ballroom Details
Dimensions: 56′ X 86′
Square Feet: 4,928
Ceiling Height: 21′
Table Seating: (Round Tables)320
Theatre Seating: 512
Standing: 775
Ballroom Rates
| Hourly Rate* | Conference or Event | Minimum |
| --- | --- | --- |
| Peak Time Saturday Rates: | $225 | 10 hour |
| Prime Time Fri & Sun Rates: | $175 | 8 hour |
| Non-Prime Time Mon- Thurs Rates: | $150 | 6 hour |
Provided by request with rental: Tables, Padded chairs, room set-up (of City equipment), Buffet Service Room, Beverage Service Room, Commercial Kitchen, Sound System, projector and screen.
Event Insurance Required - Click Here to Apply
Alcohol is served
Over 250 persons are expected to attend
Contact a Venue Specialist: (916) 625-5239, Email, Inquiry Web Form
*Down Payment is due at time of reservation and is not refundable. The down payment will be applied towards your rental fees.
*A maintenance deposit of $500 and full rental fee payment is due 90 days prior to event. The maintenance deposit is refundable pending no damages to the building or breach of contract.
* Insurance Fee: Insurance Fee is added to the rental fees depending upon alcohol service and/ or total attendance.