COMMUNITY CENTER – SPRINGVIEW HALL
5480 5th Street, Rocklin

This large venue is located in the scenic, 132-acre Johnson-Springview Park. Sliding glass doors, in a wall of glass, lead to a covered patio with views of the park.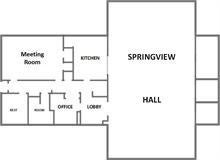 Springview Room Details
Dimensions: 39′ X 69′
Square Feet: 2691′
Ceiling Height: 21′
Reception Seating: (Round Tables)128
Springview Room Rates
| Hourly Rates* | | Minimum |
| --- | --- | --- |
| Friday- Sunday | $100/hour | 6 hour |
| Monday- Thursday | $100/hour | 3 hour |
Provided by request with Rental: Tables, chairs, room set up (of City equipment), Meeting Room, Kitchen, small sound system, portable projector and screen.
Event Insurance Required
Alcohol is served
Over 250 persons are expected to attend
Click the image below to apply for event insurance.

Contact a Venue Specialist: (916) 625-5239, Email, Inquiry Web Form
*Down Payment is due at time of reservation and is not refundable. The down payment will be applied towards your rental fees.
* A maintenance deposit of $500 and full rental fee payment is due 90 days prior to event. The maintenance deposit is refundable pending no damages to the building or breach of contract.