Campfire Treats
"We're Open" Business Features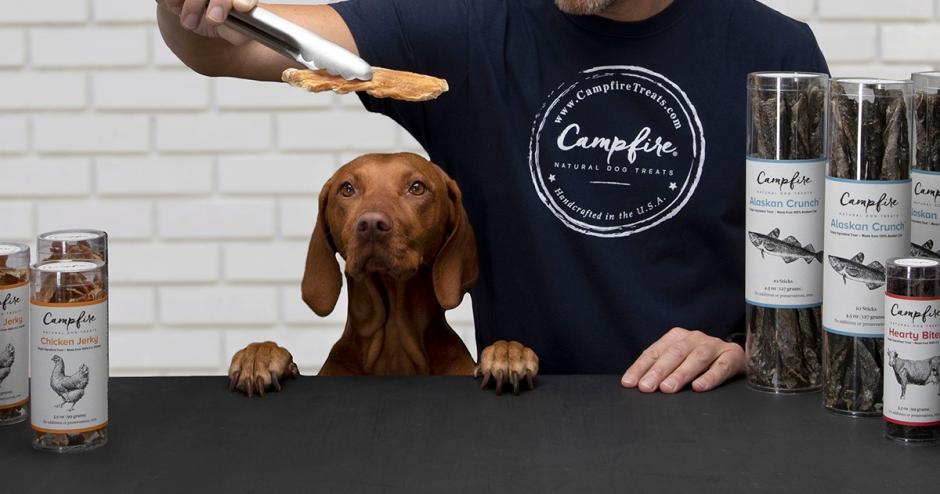 Campfire Treats is a local and national favorite: an all-natural dog treat company selling single-ingredient treats made from chicken, beef, turkey, and fish. Every treat is handcrafted in a commercial kitchen from either premium quality, USDA-certified meats and poultry sourced from U.S. farms and ranches or sustainably wild-caught fish in the Pacific Ocean. This results in a tasty and healthy treat that dogs love. The pandemic caused meat supply issues, resulting in a number of sold out treats online for a handful of days, as the company would rather not make the treat than compromise on quality. The recently shaky meat supply is now stabilizing, allowing Campfire Treats to continue offering its treats sourced from small family farms and ranches.
"We are eternally grateful for all the love and support we've received from people supporting small and local businesses. People have sent us countless emails of support, and we're still taking care of dogs with great quality treats," President and Co-Founder Marko Wittich said. Campfire Treats had a successful online business that sold treats all over the country and then added a physical store in Rocklin in 2018 to make use of a commercial kitchen. Campfire Treats has converted back to a 100%-online business and is taking the opportunity to remodel its kitchen for more space to handle the demand. It updated its website early this year for a more convenient shopping experience and offers a veterans discount.
Current business hours: 24/7 online, with free shipping on orders of $75 or more
Future expectations: With owners spending more time with their dogs as work-from-home plans extend, the demand for treats has been rising. Campfire Treats is working to keep up with demand and supplies.