Above Ground Swimming Pools
Under 5,000 Gallons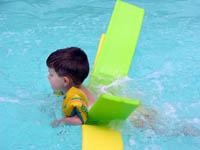 Before beginning your project, there are steps to take to make sure your project will be in compliance with State and local regulations regarding land and construction.
Step 1: Determine Special Development Conditions
Before determining if a permit is required for my project, are there any State requirements or City of Rocklin special development conditions that I need to know about?
Yes. The installation shall meet the California requirements for safety barriers from the house to the spa. Please see the Pool Regulations page for more details. You should also determine if there are any special development conditions for your project. Please contact the Building Division at (916) 625-5120 for general information. In some cases, you may need to contact individual divisions. In addition, you should also determine if there are any CC&Rs (Covenants, Conditions and Restrictions) or other deed restrictions for your subdivision and/or property. You may want to contact your homeowner's association for more information. Once you have determined the applicable conditions for your project, you will need to determine if a building permit is required for your project.
Step 2: Determine If Permit Is Required
Is a building permit required for an above pool that is under 5,000 Gallons?
A permit is required when:
new electrical work is necessary to connect the pool; or
when a pool needs to have a hard wired connection to an existing circuit; or
when the pool is not installed entirely above ground; or
the pool is 24 inches or more deep
Is there any type of above ground pool that does not need a building permit?
Pools that do not need a building permit must be less than 24 inches deep, not exceed 5,000 gallons, be installed entirely above ground, AND have a factory-installed cord that is plugged into an existing 110 volt GFCI outlet. Although this type of work is exempt from a building permit the project shall comply with Article 680 of the California Electrical Code, have proper placement and clearances, and be installed per the installation manual. If you have questions regarding these requirements, please contact the Building Division at (916) 625-5120.
If I need an electrical permit for my pool, what plans and forms do I need to submit?
The following forms are provided for your convenience. Original signatures are required to obtain a permit. Please do not fax.
Where do I submit my forms and plans?
Building Division
Administration Building 1st Floor
3970 Rocklin Road
Rocklin, CA 95677
Step 3: Project Review/project approval
After I submit the forms and plans, what happens next?
Generally, these types of permit submittals can be issued over-the-counter with a minimum permit fee. (Please visit our Fees page for details.)
If a permit requires plan check and/or cannot be issued over the counter, is a deposit required?
Prior to May 1, 2011 a deposit will not be required. Effective May 1, 2011, a plan check deposit will be required at the time of submittal.
Step 4: Fees and Permit Issuance
Once I pay the fees and my permit is issued, can I start the electrical work associated with my project?
Yes. Once your fees are paid and the permit is issued, you may begin the electrical work associated with your project.
Step 5: Building Inspections
Once my permit is issued and the project begins, should I request inspections from the City of Rocklin Building Division?
Yes. Inspections that follow the issuance of the permit are provided to ensure that work completed on your project meets current building health and safety codes and standards. To learn how to schedule an inspection, please visit our Residential Building Inspection page.
Step 6: Project Completion
Once my project passes its final inspection, is there anything else I need to do?
No. After your project passes the final inspection, your project will be considered complete.
Related Forms, Handouts, & Resources
Agency Directory
Pool Regulations
Residential Project Fee Estimator
Please note: Every project is different and the process may vary slightly. The information provided is for general reference only.