Text to 9-1-1 Now Available in Rocklin and Placer County
Call if you Can, Text if You Can't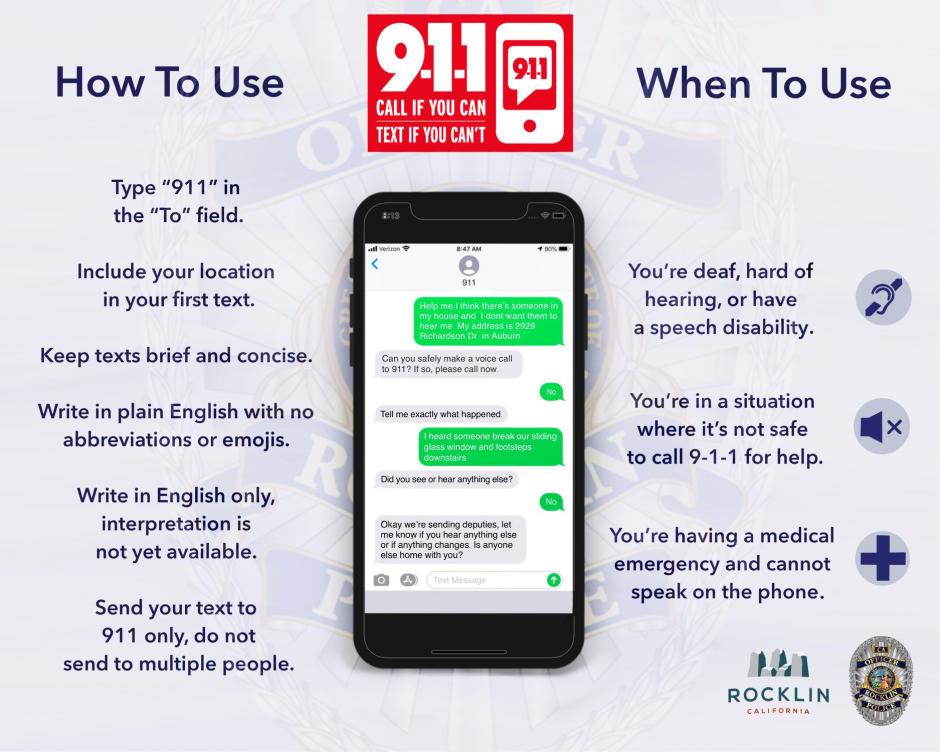 Text to 9-1-1 is live in Rocklin and across Placer County. Mobile phone users living in or traveling through Placer County now have the ability to send text messages to 9-1-1.
This new function gives hearing and speech impaired residents, or people in situations where it is too dangerous to talk, a potentially lifesaving option. Texts will be routed to a nearby 9-1-1 dispatch center the same way a 9-1-1 call is routed.
Even where text-to-9-1-1 is available, if you can make a voice call to 9-1-1, please call instead of texting.
Here's how it works:
Texts must be in English. There currently is no language interpretation available for the emergency texts. This is still in development.
Enter 9-1-1 in the "To" field of your text message.
The first text message to 9-1-1 should be brief and contain the location of the emergency and type of help needed.
Be prepared to answer questions and to follow instructions from the 9-1-1 text taker.
Photos and videos cannot be texted to 9-1-1.
Text messages should be sent in plain language and not contain popular abbreviations (i.e. "OMG") or emojis, which will not be recognized.
Text-to- 9-1-1 cannot be sent to more than one person. Do not send your emergency text to anyone other than 9-1-1.
Other things you need to know if you text 9-1-1
If you are deaf or hard of hearing and text-to- 9-1-1 is not available, use a TTY or telecommunications relay service, if available.
If you text 9-1-1 and text is not available at that time or in your area, you will receive a bounce back message advising "text is not available please make a voice call to 9-1-1."
Text-to-9-1-1 service will not be available if the wireless carrier cannot ascertain a location of the device sending the message.
Text-to-9-1-1 is not available if you are roaming.
A text or data plan is required to place a text to 9-1-1.
Remember, call if you can, text if you cant.