Storm Readiness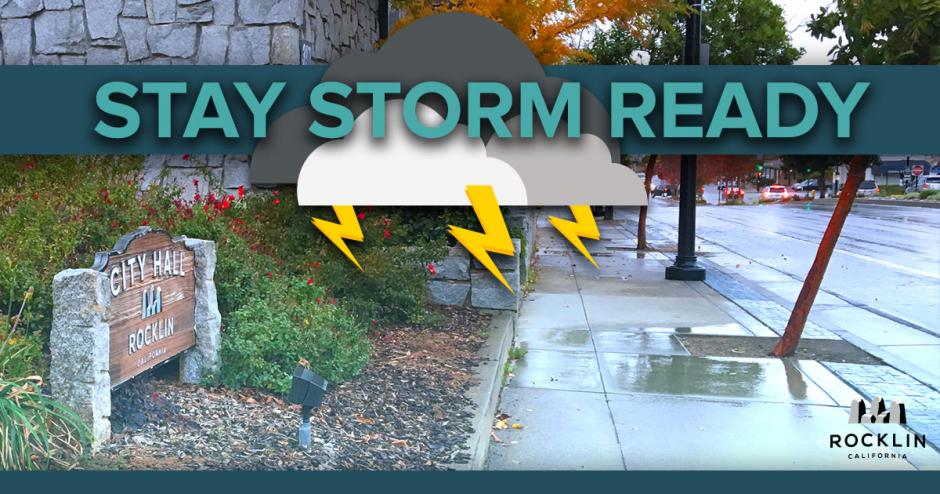 The City of Rocklin would like to remind Rocklin residents how they can best prepare for the season and lessen the impact of storms.
Preparation
Clear leaves from drains and gutters
Bring inside or secure outdoor objects (decorations, patio furniture, umbrellas, etc.)
Have supplies ready in case of power outages (food, batteries, blankets, etc.)
Grocery shop, fill your prescriptions, etc., so that you don't have to go out during a storm.
Bring your pets inside before a storm hits.
Fill used liter-size plastic soda bottles with water and place them in the freezer. During an extended outage, transfer them to your refrigerator to prevent food from spoiling. Open the refrigerator only when necessary to keep warm air out and cooler air in.
For more tips on what to do in a power outage, visit the PG&E website.
Make a Family Communication Plan so you know what to do in case of an emergency.
During a storm
During storms, the City ensures that main roadways are clear of downed trees and debris and that storm drain inlets are functioning properly. Public Services crews respond to reports of tree damage and clogged storm drains, placing priority on blocked roadways, flooding above the curb line and other hazardous situations.
Monitor local news sources, the City's website, and social media channels for updates and emergency messages. Don't call 9-1-1 unless you have a true emergency.
Postpone all non-essential driving until after severe storms.
If you must drive, turn your headlights on, slow down, and be very cautious. Keep a disaster supplies kit in your vehicle.
Don't drive through standing water.
Numbers to call
To report fallen trees during regular business hours, call Public Services at 916-625-5500. All other times, call the Police Department's non-emergency number at 916-625-5400.
To report a power outage, call PG&E at 1-800-743-5002. To check the status of an existing power outage, visit PG&E's outage webpage.
Report downed power lines immediately by calling 9-1-1 and PG&E at 1-800-743-5002.
Call 9-1-1 to report flooding or fallen trees that are creating an immediate hazard.
For any sewer related issues, including 24-hour emergency services, call South Placer Municipal Utility District (SPMUD) at 916-786-8555.
For other non-emergencies, call the Police Department at 916-625-5400.
If you would like to receive emergency notifications via phone message or text, visit Placer Alert.